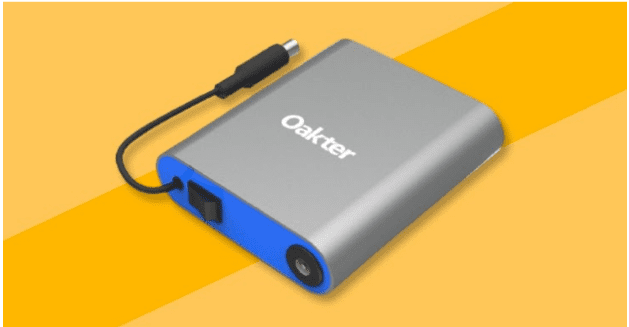 Why Is a Power Backup for WiFi Router Critical for Smart Homes?
"Alexa, turn on the geysers, please!"
"Hey Siri, could you please unfold the blinds in the living room?"
Such phrases are becoming increasingly common across homes in India as more homeowners adopt smart home solutions. Thanks to the skyrocketing accessibility to IoT and AI ecosystems at an affordable rate. Smart home technology is penetrating the Indian market at a rate like never before.
According to a Statista report, the Indian smart home market is expected to be around $6 billion in 2022, a two-fold increase from $3 billion estimated in 2020. That's explosive growth and a massive number of people using the same.
And when it comes to smart homes, you cannot underestimate a persistent internet connection because, well, the whole system will rely on it to perform seamlessly.
Ironically though, you have a battery backup device for all appliances but rarely consider having a power backup for WiFi router! Yet, most of the workforce is working-from-home, and systems like smart homes rely on a persistent Wifi connection.
These facts, combined with a problem of frequent unforeseen power cuts in India, make it challenging to stay connected to the internet. And that invites unfavourable circumstances, be it for your smart home or work-from-home.
So what's the way out? It turns out, a power-backup system for your smart home solves quite a lot of problems, including facilitating seamless work-from-home.
Power Backup For Wifi Router: Many Connectivity Problems, One Solution!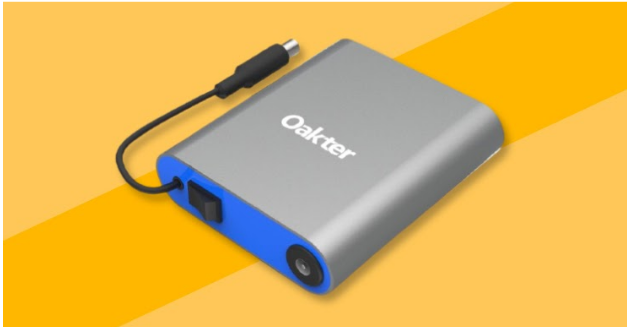 Persistent internet connectivity is a critical element of today's life.
Say smart home, say work-from-home, say kids' online classes, say home security solutions, the internet is the driving force behind all these systems. But it takes only one power-cut and no power back up to bring you to the knees, doesn't it?
So, being able to immunise against all the odds stated above at the same time is fantastic, isn't it?
Following are some of the hindrances which you can dodge with the help of a power backup for WiFi router:
1. Shields your router
Sudden power cuts are sure to cause wear and tear to your router over time. Having an inverter might even be helpful, but a Wi-Fi router draws critically low current (e.g. 120V at 0.2 amps), which the majority of the UPS systems fail to inscribe, and they switch themselves off thinking it's the lack of load. Thus a dedicated power backup for the WiFi router will prolong its life.
2. Never lose out on work
Without a dedicated power backup for your router, you are bound to lose some crucial work-related files and lose connection during an important video call, even if your desktop or laptop has backup power. All these issues will occur because the Wifi will be off. One backup device (provided you have an inverter or UPS to power the other devices) will eradicate these hassles.
3. Protects the other connected devices
A power cut or disconnection in the middle of a task affects the inner mechanisms of all connected devices. It may not instantly show up, but abrupt cyclic power cuts are bound to affect devices and systems. A power backup for a Wifi router is the only saviour in such a scenario.
4. Keeps your devices updated
A power backup device for your WiFi will enable you to stay on top of software updates from your device manufacturers. Available updates are not always notified, and most smart devices are set to auto-update that rely on Wifi. And in case of not updating them for long enough, they could start to misbehave, or worse, become vulnerable to hackers.
Moreover, a sudden power cut during a major OS upgrade, for instance, could even go as far as bricking your device!
Also Read: Use-Cases That Makes the Mini UPS the Perfect Device for Every Home
So, if your device is in the middle of a critical firmware update, you can rest assured that it will complete without hiccups when the power backup for the Wifi router is deployed.
How is Oakter's MiniUPS a Game-Changer?
We just explained a cascade of problems in case of a power cut, and you might be wondering whether products that cater to this pain point exist! Fortunately, there is an excellent suite of products available from Oakter. Oakter is an Indian consumer electronics and IoT company that focuses on leveraging technology to provide affordable smart home devices.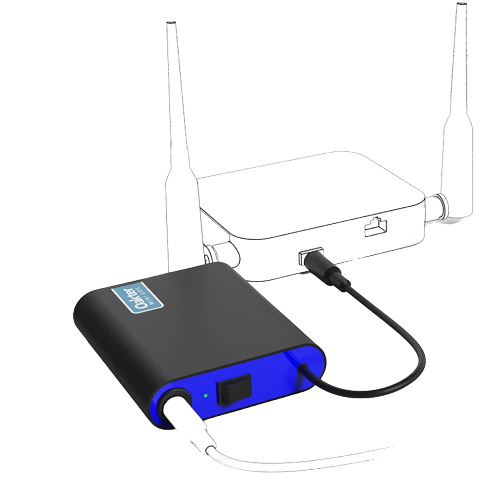 Oakter's Mini UPS is a tiny device designed to deliver 4 hours of backup time, especially to your home or office's routers. Even a second of load-shedding could determine a hefty sum of stakes in some situations, and hence, an internet power backup (coupled with UPS or inverter) is a massive relief. Furthermore, this doesn't come at a compromised speed as there is zero lag in switching time.
Also Read: The Best 'Made in India' Sanitizer Dispenser You Should Consider Buying
MiniUPS kicks in at the split second when the regular power is gone, and your devices won't even drop the signal because of uninterrupted power.
Oakter's MiniUPS is available in two versions, one for 9V routers and 12V routers. Both the MiniUPS and its derivatives provide the same value at an affordable price. Check this link to learn more about Oakter's MiniUPS.
Smart Features of the MiniUPS at a Glance
MiniUPS comes with significant features packed in. There are more advantages than you can think of. Following are some of them:
1. Intelligent charging
MiniUPS is the innovative Smart Charging capability that automatically charges the in-built battery when the power is back. So, you won't have to worry about keeping track of its battery level or constantly switching it on and off.
2. Ready and super-easy to use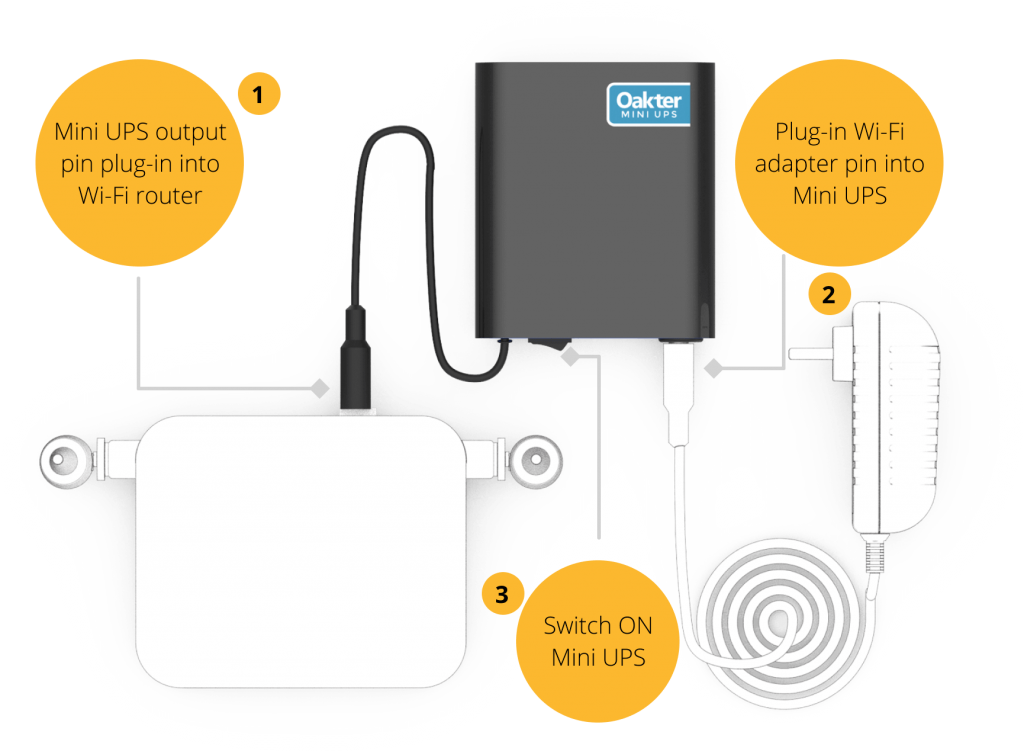 Setting up the MiniUPS is not a complex task either. It can be set up in under 30-seconds of unboxing. It is a simple plug-and-play setup for your WiFi routers, set-top boxes, and CCTV cameras. Most Oakter products are designed for ease of use, which is no different.
3. Pre-recharged battery
MiniUPS power backup for Wifi router comes with a partially charged 2000 mAh rechargeable battery. So, it's ready to use immediately after unboxing. MiniUPS is an innovative and practical gift for your team with intelligent charging capability and a pre-recharged battery.
4. Surge protection
Sometimes power surges damage devices due to voltage fluctuations. You can rest easy knowing that MiniUPS comes with inbuilt surge protection. This safeguards your WiFi router from current damage.
5. Deep-discharge protection
Not only a surge protector, but MiniUPS also comes with deep-discharge protection. Simply put, it means that MiniUPS won't overtly discharge as well. Lithium-ion batteries are known to degenerate after multiple deep discharge cycles. In case the battery remains undercharged, MiniUPS is robust to handle that as well.
Oakter's Brand Value
Oakter has been a trailblazer in leveraging technology to deliver an innovative, brilliant smart home experience at affordable prices in India. Oakter's Made-in-India products have been bundled with technology giants like Sony's offerings.
MiniUPS or power backup for Wifi router is one of the offerings in Oakter's smart home portfolio. You can explore their entire product portfolio like Smart Universal Remote, Smart Plugs, and other devices here. 
Also read: Seven Unique Festive Gifts for Vendors and Distributors to Keep them Contended
You can also contact Oakter for more information on these products. For bulk orders like the MiniUPS, visit this page or drop an email at oy*@oa****.com.