6 Reasons Why Oakter Universal Voice Remote Is a Worthy Investment for Your Smart Home
Wi-Fi-enabled smart voice remotes are the perfect tool to start your journey of turning your home smart. They're effortless to use, inexpensive, and most importantly, multifunctional. One smart remote can control every part of your home, from your geyser to your television.
But even if you've been aboard the smart home train for years now, a smart remote could still make meaningful improvements to the way you interact with your space. Keep reading to find out why a universal remote is perfect for you, no matter how many of your appliances already connect to the wi-fi.
Is a Voice Remote For You?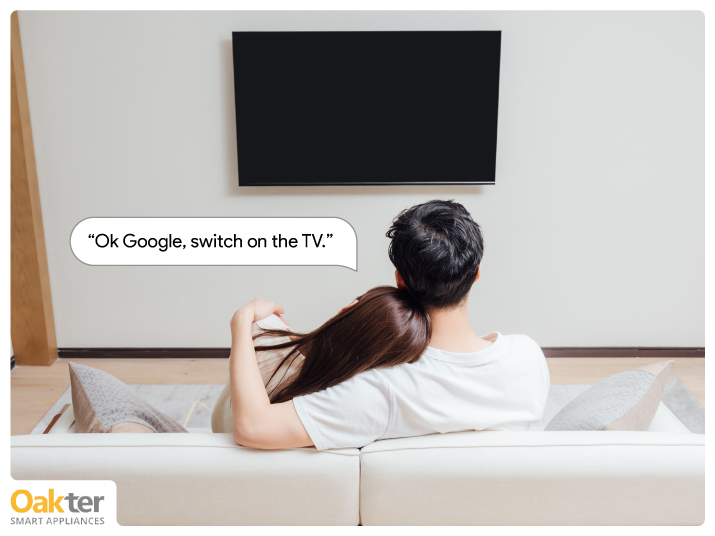 The OakRemote, Oakter's Universal Wi-Fi-enabled remote, connects to every remote-controlled appliance in your house (and even a few that aren't!).
If you're only just getting used to the idea of a smart home, here's how it will smoothen that move for you:
1. The Perfect Starting Point
Most other smart devices like Amazon's Alexa that offer smart remote features still require your existing appliances to have internet connectivity and other such smart features. This means that to use them, you might have to make a whole set of expensive upgrades first.
Not with the Oakter remote, though. This cost-effective device uses wi-fi to connect to your phone but controls your appliances using good old-fashioned IR blasts. Even voice commands can be issued through Voice Assistants on your phone like 'Ok Google,' so there are absolutely no add-on devices needed for it to function as a voice remote.
When you're ready to take the next step, though, Oakter's perfect for that too. It connects seamlessly to virtual assistants like Alexa and receives voice commands through them.
However, choosing a remote with wide compatibility across brands and device types is key to this point. You certainly don't want to end up with half a dozen smart remotes because most of them only work with a specific model! With the OakRemote, of course, this isn't a concern you need to have. The little device supports 12+ set-top box brands and 16+ TV manufacturers.
2. Ease of Use
Turning up the volume with a few words seems like a sweet deal, but some of us just can't get the hang of it quickly enough and end up struggling with our brand new virtual assistants. Make this transition period easier by starting with OakRemote's app, whose UI makes it almost intuitive to use and is simply a better version of the physical remotes we're used to. But, as we mentioned earlier, you have the full freedom to move on to using voice control and other technologies without any additional investment at all.
3. No Compromises with Privacy
We know that while making the transition to a smart home, one of your foremost concerns will be privacy and security, but we've got you covered. Your smart remote will connect to your wi-fi and appliances, but this certainly doesn't mean every detail of your activity is now available for the world's perusal. Your data is always safe with us at Oakter.
A Step Forward with OakRemote
On the other hand, even the smartest, most high-tech homes can use a smart remote or two. Here's why:
1. Easier Access
While most of your smart devices probably come with their own apps, it can get as hard to keep track of the dozens of them as it used to be to keep track of all the remotes! After all, most of our phones are quite a bit messier than our living rooms these days!
The Oakter Universal Remote's app connects to all your appliances simultaneously and allows you to switch between them seamlessly and control every action.
2. An Abundance of Choices
The ability to change the channel or turn up the temperature using voice commands is very convenient, but it has its problems. When you have a sore throat, for instance, or are just seated further away from your virtual assistance device, you probably don't want to have to shout across the room to perform a simple task. The mobile app that comes with Oakter's remote is just the thing for these situations.
Also, voice commands can be a bit of a pain when it comes to complex tasks, like setting your video game console to a set of modes or searching through a streaming platform for the perfect watch. If you're tired of having to repeatedly correct your virtual assistant device when carrying out these tasks, the OakRemote is the perfect solution to that too.
3. Remote Access to All Your Appliances
Being able to turn on your air-conditioner with a few spoken words is handy, but you know what's even better? Being able to turn it on when you're several kilometres away in your car, so you have a nice, cool home to return to—without the hefty electricity bill and enlarged carbon footprint that comes with keeping it on all day.
This is also perfect if you're a little absent-minded or just extra cautious. No more worrying if you've accidentally left your geyser on, you won't return to a burnt-down house!
If you're still not convinced, check out this article on every amazing thing IR blasters can do for you and your home. Place your order and get your new favourite device delivered home today.The Oakter universal Remote connects to the Oakter smart plugs too, along with virtual assistants. The two work in tandem to make it all the easier and safer to control all your appliances the smart way. And yes, this includes the ones you don't expect but are the most useful, like lamps and mosquito repellants.