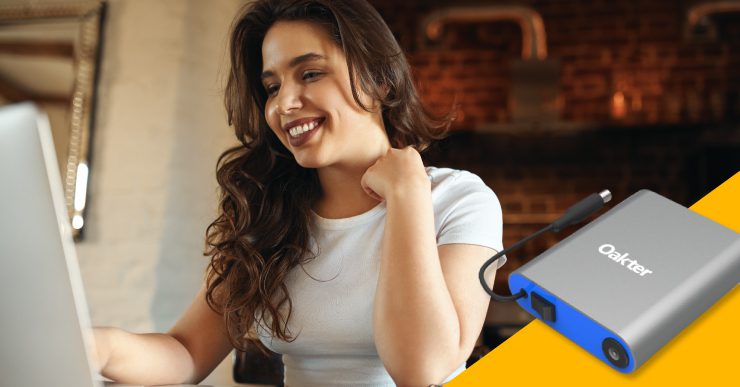 How to Minimise Your Power Cut Worries With a Mini UPS
India's perpetual load-shedding or power-cut is still a nagging issue across the subcontinent, even when we're the fastest growing economy in the world!
As per media reports, India is impending even more power-cut issues in the future, thanks to a combination of factors, including lack of availability of coal and movement hindrances.
Regardless of the cause of power-cuts, life must go on. And when it comes to power-cuts, you cannot afford that because work-from-home is the new normal, and your employees must keep going and stay connected.
Having power backup for the internet router is therefore critical. This article is for you if you are on the lookout for a smart home device that can ensure an uninterrupted power supply for your employees' routers.
Also read: Unique Festive Gifts for Vendors and Distributors: Why They Deserve Appreciation?
MiniUPS, But Major Power!
Developed by Oakter, MiniUPS is a resourceful device in nations like India and where work-from-home is gaining traction. In an environment of uncertain electric supply, why should work suffer when there is a way to be connected to the internet?
MiniUPS grants up to 4 hours of power backup time depending on the type of your router. Don't mistake to think that this comes at a compromise of speed; there is zero lag in switching time.
It comes in two variants: 12V routers and 9V ones. As an organisation, if you are looking for a solution to enhance your employees' remote working experience, read this article.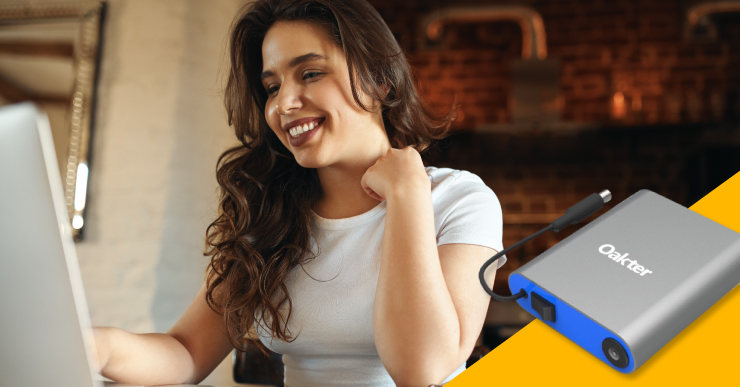 What are the Other Features of MiniUPS?
MiniUPS is packed with the following features:
1. Smart Charging 
The stand-out feature of MiniUPS is its innovative Smart Charging capability. It has an intelligent battery management system that automatically charges the battery when the power is on. And when the power is cut, it becomes the source of energy. Thus, you won't have to worry about keeping track of its battery level from time to time, no you have to worry about switching it on when a power-cut happens.
2. Easy Setup 
MiniUPS can be set up in under 30 seconds for your devices. It is a simple plug-and-play setup for your WiFi routers, set-top boxes, and CCTV cameras. This removes the complicated processes which otherwise hinder adopting such devices.
3. Pre-Recharged 
Many times new products come bundled with zero battery power. That isn't the case with MiniUPS. It is packed with battery power and is ready to use from the moment you unpack it. Just unbox and plug it for use, and you are immune to unpredictable power cuts.
Also read: Traditional Corporate Gifts for Employees Don't Work Anymore. Here's Why
4. Surge Protection 
Some power surges are potentially dangerous for your devices. But MiniUPS comes with inbuilt surge protection, which even prevents your WiFi router from current damage. So you can have all the peace of mind you need.
5. Deep-Discharge Protection 
Along with surge protection, MiniUPS possess deep-discharge protection as well. Simply put, it means that MiniUPS doesn't overcharge. Also, in case of being undercharged, it prevents undercharging, which increases the battery's efficiency.
How can the Mini UPS Help Remote Employees' Productivity? 
The name Mini only pertains to its size and, indeed, not the plethora of features and advantages it delivers. This product can be a saviour, particularly beneficial for remote employees who must stay connected to the internet. These are some of the ways Oakter MiniUPS can enhance employee productivity:
Uninterrupted Meetings 
Ask your employees how many times they had to switch to their mobile hotspot to continue an important meeting when there is a power-cut? That won't be necessary anymore if they have MiniUPS.
Random power cuts are annoying and can seriously hamper your workflow. With MiniUPS, your employees could be always connected online and never miss out on crucial meetings or collaborations.
Kids will Never Miss Classes 
The post-pandemic shift in lifestyle isn't restricted to us adults alone. Kids also have had to adapt to remote communication. So, in addition to sustaining your employee's workflow, Oakter's MiniUPS will also ensure their kids (if they have) can benefit from the same.
Also read: Eight Gift Ideas for Remote Employees to Work Smoothly
Missing out on a single online class can set the child back in their syllabus. And MiniUPS can thus bridge the gap in their studies without worrying about power cuts. Won't it be a thoughtful gift to your employees?  
4.  Gaming Sans Worries 
Taking breaks while working is physically and intellectually beneficial. But a power-cut while playing Call of Duty or FIFA can be irritating. Your employees can enjoy seamless gaming with MiniUPS and never let sudden power outages ruin their much-needed mini-break or weekend collabs with friends.
P.S: Your employees could save their games' progress and can even safely log out so that they can redeem all the rewards that they might miss out on if abruptly disconnected from the game servers.
5. Downloading Without Breaking a Sweat
The mere thought of being interrupted while downloading an important file is frustrating. And if it is a file work-related, then it adds to the tension.
MiniUPS eliminates the need to switch to the often unstable mobile hotspot in such a case and saves time and hassle.
6. Trading Without Losses
Your employees might trade online as a side income. Imagine having made a profit on Bitcoin investment while just about to withdraw the amount, the transaction fails from internet interruptions! Frustrating, right?  Oakter's MiniUPS can save the day.
Why Choose Oakter? 
Oakter has been at the forefront in leveraging technology to deliver an innovative home experience at affordable prices in India. Oakter's Made-in-India products have been bundled with technology giants like Sony's offerings.
MiniUPS is just one of the offerings of Oakter and is very popular. You can check out their entire product portfolio like Smart Universal Remote, Smart Plugs, and other devices here.
Also read: Seven Unique Festive Gifts for Vendors and Distributors to Keep them Contended
You can also contact the Oakter team for more information on these products and refer to the blog posts to explore all about Oakter and its innovative products. For bulk orders like the MiniUPS, visit this page or drop an email at oy*@oa****.com.