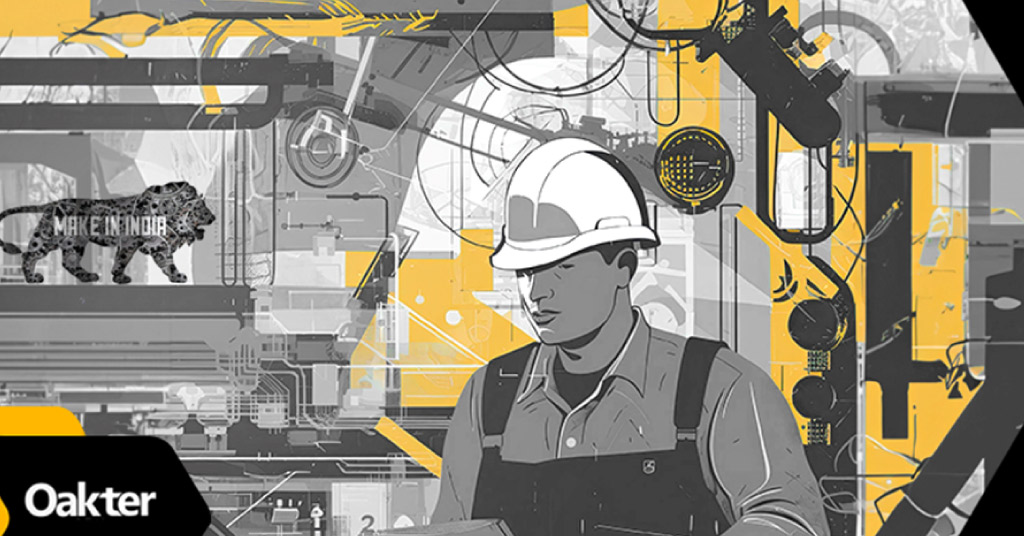 Harnessing the Power of 'Make in India' and Exploring Contract Manufacturing Opportunities in India With Oakter
The 'Make in India' initiative has sparked a manufacturing boost, attracting businesses to establish their production base in India. With the contract manufacturing industry in India projected to reach USD 23.72 billion by 2025, the potential for growth is immense.
Oakter, a leading brand specialising in automation solutions, presents a compelling opportunity in the realm of contract manufacturing in India. In this article, we delve into the concept of contract manufacturing and how businesses can leverage the contract manufacturing opportunities in India offered by Oakter.
Navigating the World of Contract Manufacturing: An Overview
Contract manufacturing refers to the practice of outsourcing production to specialised manufacturers. It involves a contractual agreement where one company, known as the "contract manufacturer," produces goods or components on behalf of another company, known as the "contracting company."
This arrangement allows businesses to focus on core competencies such as research, marketing, and distribution while leveraging the manufacturing expertise of their partners and scaling production.
Benefits of contract manufacturing for businesses
Contract manufacturing offers several benefits for businesses, including:
Cost savings by eliminating the need for establishing and maintaining manufacturing facilities.
Access to specialised manufacturing capabilities, technologies, and resources that may not be available in-house.
Improved product quality resulting from the expertise and experience of contract manufacturers.
Faster time-to-market due to streamlined manufacturing processes and efficient production cycles.
Efficient scaling of production to meet fluctuating market demands.
Reduced operational risks and increased flexibility for businesses.
Opportunity to focus on core competencies such as research, marketing, and distribution.
Enhanced supply chain management through the expertise of contract manufacturers.
Potential for collaborations and knowledge sharing, fostering innovation and growth.
Increased competitiveness in the market by leveraging the capabilities of contract manufacturers.
Role of Contract Manufacturing in Boosting the 'Make in India' Initiative
Attracting investment from domestic and international companies, contract manufacturing contributes to the growth of India's manufacturing sector and opens up contract manufacturing opportunities in India. It leads to job creation, technology transfer, and skill development.
Moreover, contract manufacturing partnerships strengthen the manufacturing ecosystem in India, fostering innovation, collaboration, and the overall competitiveness of Indian businesses on a global scale.
Exploring India's Potential as a Contract Manufacturing Hub
India's manufacturing sector has witnessed significant growth, supported by favourable government policies and infrastructure development. The country has a diverse industrial base, spanning sectors such as automotive, electronics, pharmaceuticals, textiles, and more.
With a robust supply chain, advanced technological capabilities, and a vast network of suppliers, India has positioned itself as a formidable player in the global manufacturing landscape, including contract manufacturing opportunities in India.
Here are some advantages of choosing India for contract manufacturing:
1. Cost-effectiveness 
Labour costs in India are comparatively lower than in many other countries, making it an attractive destination for outsourcing production. Additionally, the operational expenses, such as facility rentals and utilities, are relatively affordable, contributing to overall cost savings for businesses.
2. Skilled Labour Force 
The country's education system emphasises technical and engineering education, producing a talent pool well-equipped to meet the demands of contract manufacturing. The availability of skilled labour enables businesses to ensure high-quality production and efficient operations.
3. Favorable Business Environment
The government has implemented initiatives to ease doing business, streamline regulatory processes, and promote foreign direct investment. These efforts have resulted in improved ease of doing business rankings, creating a conducive atmosphere for businesses to establish and expand their manufacturing operations in India.
Oakter: A Leading Partner for Contract Manufacturing in India
Oakter, a prominent brand specialising in automation solutions, has emerged as a reliable partner for businesses seeking contract manufacturing opportunities in India.
We offer a wide range of products designed to enhance convenience and efficiency across various domains. From smart home devices and IoT-enabled solutions to industrial automation systems, Oakter's portfolio showcases our expertise in creating innovative and cutting-edge products.
Oakter's Commitment to the 'Make in India' Mission
As an advanced (Original Device Manufacturer) ODM, Oakter strongly aligns with the 'Make in India' initiative, sharing a common vision to promote domestic manufacturing and propel India's industrial growth.
As a homegrown brand, Oakter is dedicated to manufacturing our products within India, contributing to the country's economy and employment opportunities. By choosing Oakter as a contract manufacturing partner, businesses actively support the 'Make in India' mission.
Oakter's Proficiencies as your Contract Manufacturing Partner
Here are some strengths and capabilities of Oakter as a contract manufacturer:
1. Quality Control Measures 
Oakter places utmost importance on maintaining stringent quality control measures throughout our manufacturing processes.
2. Customisation and Design Capabilities 
Oakter understands that businesses may have unique requirements for their products. We possess strong customisation and design capabilities, allowing them to tailor manufacturing solutions according to specific business needs.
3. Customer-Centric Approach
Our customer-centric approach ensures that businesses receive personalised attention and support throughout the contract manufacturing journey.
Expanding Business Horizons with Oakter's Contract Manufacturing Opportunities
Partnering with Oakter opens up a world of contract manufacturing opportunities in India for businesses looking to explore.
Oakter offers flexible collaboration possibilities for contract manufacturing. They work closely with businesses to understand their unique requirements and provide tailored solutions.
Whether it's full-scale manufacturing, component sourcing, assembly, or product customisation, Oakter has the capabilities to meet diverse manufacturing needs. Our collaborative approach ensures seamless integration and a partnership that focuses on mutual growth and suc
What Are Oakter's Advantages as a Contract Manufacturing Partner? 
Here are some benefits of partnering with Oakter for businesses:
1. Access to Advanced Automation Solutions
By partnering with Oakter, businesses gain access to advanced automation technologies. Oakter stays at the forefront of innovation, incorporating the latest advancements into our products. This enables businesses to offer cutting-edge solutions to their customers, enhancing their competitiveness in the market.
2. Cost-effectiveness and Competitive Pricing
Oakter understands the importance of cost-effectiveness for businesses. They leverage their manufacturing expertise, economies of scale, and efficient processes to offer competitive pricing. Partnering with Oakter allows businesses to optimise their production costs while maintaining high-quality standards.
3. Enhanced Customer Experience
Oakter's customer-centric approach ensures that businesses can deliver an enhanced customer experience. The products manufactured by Oakter are designed with user satisfaction in mind, focusing on usability, reliability, and functionality.
By partnering with Oakter, businesses can provide their customers with technologically advanced and reliable solutions, leading to increased customer satisfaction and loyalty.
Driving Growth and Innovation: Oakter – our Trusted Partner for Contract Manufacturing in India
In the world of contract manufacturing, Oakter stands out as a leading partner in India, aligning seamlessly with the 'Make in India' vision.
Our expertise in automation solutions, commitment to quality, and customer-centric approach make them an ideal choice for businesses seeking manufacturing opportunities in India. Embracing the potential of 'Make in India' through partnerships with Oakter can pave the way for growth, innovation, and success.
Contact us today to explore the vast possibilities of contract manufacturing in India and embark on a fruitful journey of manufacturing excellence.