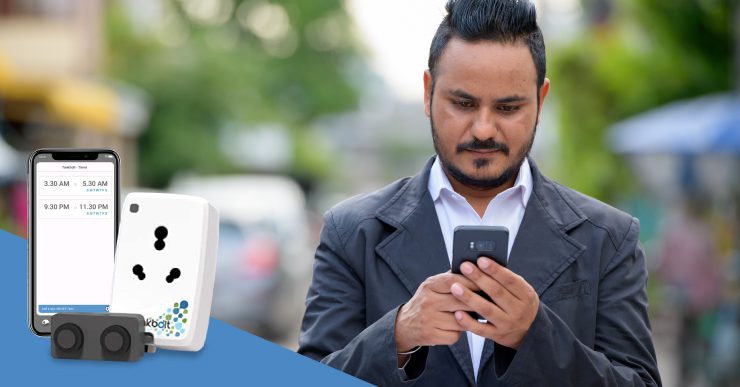 What Makes Tankbolt the Best Automatic Water Level Controller?
Automatic water level controllers are a great help when it comes to monitoring and managing water levels in your overhead tanks. They are among the best innovative products that help conserve water, electricity, and save you from unwanted daily hassles.
Water wastage can also happen when the water tank is full, and the motor is not switched off on time. However, in today's work-oriented lifestyle, it may not always be possible for someone to manually switch off the engine every time the water tank gets full. This is where automatic water level controllers come in handy.
Read more about how they work and why you need one for your home.
What Makes Tankbolt the Best Automatic Water Level Controller? 
Automatic water level controllers have become quite prevalent in modern cities across India. Multiple reasons and benefits can be attributed:
Automatic Water Management:
Water level controllers are entirely automatic, giving much-needed freedom to people living in the house. These devices regulate on their own, which eliminates any manual operations required to monitor water levels. As a result, the water level is maintained at the optimum levels, all thanks to the automatic functions of these devices.
Saves Power:
In today's times, when there is a dire need to save energy and natural resources, water level controllers help us become energy conscious. In normal circumstances, regulating water levels can consume electricity and wastewater. But with automatic water level controllers, water and electricity are used at a limited level, resulting in considerable savings in power.
Saves Money:
Water level controllers also help save money by keeping a limit on the usage of water and electricity. They also help regulate the amount of energy spent and protect against any unwanted wastages. Such amounts end up being substantial savings over time.
Water Saving Features:
Water pumps are mainly used during day times. Water level controllers recognise this pattern and can maximise the water usage during the day while reducing the water usage at night. This helps in maintaining an appropriate level of water in the water tanks so that you can use water in the best manner, whenever needed.
What Makes Tankbolt the Best Automatic Water Level Controller?
Tankbolt is an automatic water level controller Made in India by Oakter Smart Appliances. It is a product that meets the best of industry standards and is very useful in helping to regulate water levels in your tanks. Here are some of the essential features of Tankbolt:
Automatic Switch On/Off:
A complete automatic solution to control the water level in overhead tanks without any manual operations is one of the best features of Tankbolt. With the help of Tankbolt, you can move out of the house freely, without any stress of who will switch on or switch off the motor and still get appropriate water stored in your tanks.
Intelligent Sensors:
Tankbolt is inbuilt with the most advanced ultrasonic sensors, which helps track the exact water level in the tanks and view real-time water level on its mobile app. There is also a real-time clock in Tankbolt that helps ensure that the timer always works without fail.
Dry Run Protection:
Dry run protection is a significant feature of automatic water level controllers. Imagine there is no water supply in the taps, and yet the motor is switched on. This will result in the water pumps burning out eventually. Tankbolt provides the feature of dry run protection, which means the water pump will automatically switch off whenever there is very little or no water supply. This leads to longer life of the water motor as well.
Mobile App Control: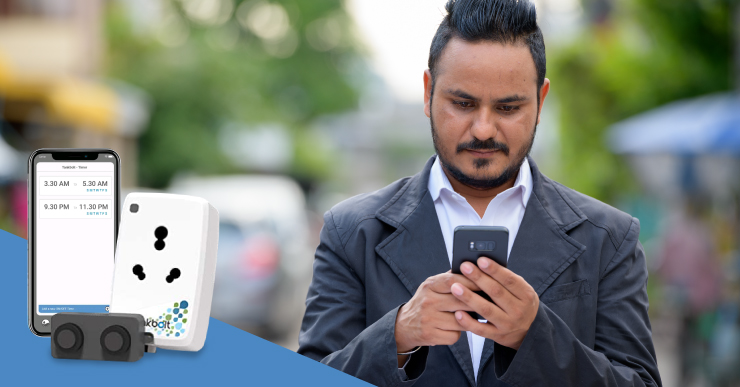 Using and managing Tankbolt is very easy as it comes with a mobile app. Tankbolt mobile app is extremely user-friendly. People conduct most of their business or even daily activities through various mobile apps today, and managing your water level controllers should be no different.
Tankbolt's mobile app lets you manage your overhead water tanks by simply opening the app and pressing a few buttons. You can get notifications about different water levels as well as download water usage reports. The best part about the app is that you can access your water level controllers even if you are away from home. Multiple users can assess the mobile app at the same time.
Tankbolt is built in line with the latest technology and is even compatible with voice assistants such as Alexa and Google Home.
Easy Installation & Warranty:
Oakter provides door-step free installation of Tankbolt. However, any layman with the Tankbolt mobile app can easily install the same on their own. The product comes with a one-year replacement warranty and 24X7 support, which one can access from within the mobile app.
Tankbolt is a wonderful 'plug and forget' water tank management solution that provides the ultimate peace of mind when monitoring water levels. Available at a reasonable price to buyers, it is one of the best automatic water level controllers manufactured in India today. For all your water management needs, get your Tankbolt today!