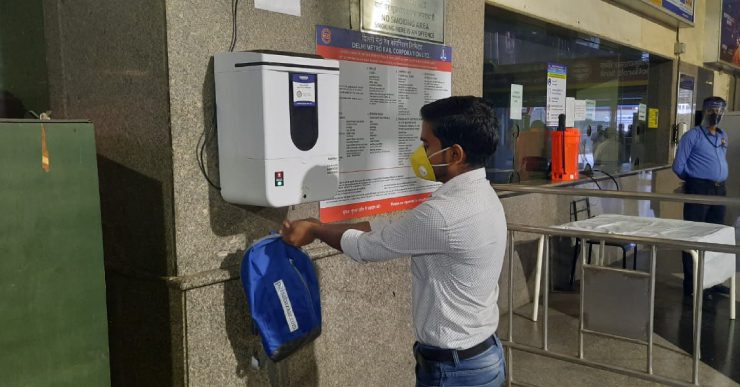 The Truth About Contactless Sanitizer Dispensers in India
It will be an understatement to say that the pandemic has made us realise the importance of personal hygiene. From government awareness drives to social media campaigns, the focus on hygiene has been very high. Various brands have also come up with innovative offerings to suit these consumer needs.
Indeed, the bottled hand sanitizers are the go-to option in many cases, but they don't guarantee a secure sanitization. The reason is simple. These bottles need to be touched every time, which defeats the no-touch rule to prevent the virus infection. Thus, it's best to use contactless sanitizer dispensers as they are a proactive means of maintaining ideal hand hygiene habits.
Need for Contactless Sanitizer Dispensers in India
'Prevention is better than cure' and thus, it is wise to resort to the best way of evading the infection. Let us discuss why we must adopt them in our daily lives:
1. Developing a habit 
It takes a long time to develop a habit. Having a contactless sanitizer dispenser in your surroundings, be it your office or home, will constantly remind you to use it. Not only during COVID-19, but good hand hygiene will help in the long run, thereby shielding you and your family members and colleagues from any other infection.
2. Eliminate the risk of germ contraction
Our hands are exposed to various objects throughout the day. Germs can be on any of those surfaces. Timely and precise cleaning of the hands is the way of the future.
3. Creating a safe environment
A certain degree of paranoia has gripped people's minds with regards to hygiene. Having installed a contactless sanitizer dispenser creates a sense of security in the minds of people around you. It also presents you as a person who values health safety.
4. Mass sanitization
It is easy to guarantee an individual's sanitization. But when catering to many people, it becomes tedious to ensure 100% adherence to hand sanitization. Having a contactless sanitizer dispenser installed at an entrance or any prominent place of gathering can help sanitize a large number of people.
Once realising the need for a contactless sanitizer dispenser, the next question that comes to mind is regarding the brand. Choosing any product doesn't guarantee safety, so it is always better to select a credible brand. OakMist is one such product from Oakter and has been developed in association with DRDO India.
OakMist at a Glance
The OakMist contactless sanitizer dispenser by Oakter was devised in association with the Defence Research and Development Organisation of India (DRDO). The aim was to ensure a long-term solution for hand sanitization in public spaces to combat the virus.
Oakter deals in 100% Made-in-India products, making Oakter a strong supporter of the Atmanirbhar Bharat initiative. This level of recognition makes OakMist the perfect choice for a contactless sanitiser dispenser.
OakMist itself comes in two variants:
1. OakMist Plus
This 10 litres variant is ideal for large office spaces, public places like malls, airports etc. Apart from above, it is also a perfect fit for your office safeguarding not only your employees but also your visiting clients. Entrance lobbies of buildings and housing societies are also the best places to have OakMist plus.
2. OakMist 5 Lts
This is the 5 Litres variant of OakMist. This variant too is suited for large spaces and is the best option if you want to test the waters before adopting any other contactless sanitizer dispensers. With an economical price and an optimum capacity, you get all the functionalities of the higher end OakMist.
3. OakMist Mini
There is a need for sanitation, even at the individual level. Keeping this in mind, Oakter has launched a new variant termed 'OakMist Mini', which is aimed at homes and small offices or cabins. This makes it perfect for use at homes keeping you safe at all times without occupying much space.
To know in detail, visit here.
Why have OakMist at home and in other public spaces?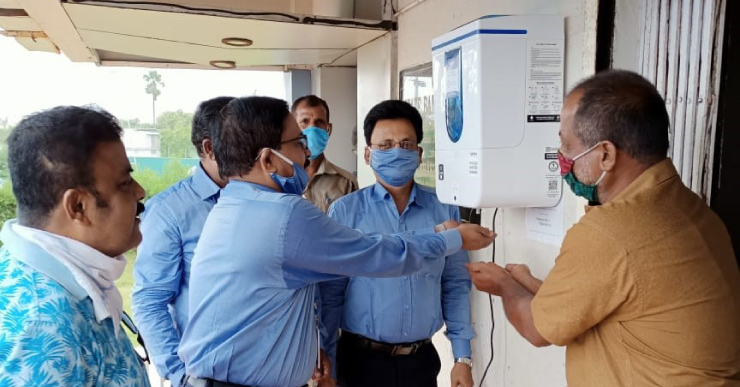 1. The pandemic and after effects 
We have learned the hard way that it is best to have a proactive approach to hygiene. Threats of various infections still loom around us making it important to leverage all available tools.
2. Long-term solution 
Public places that get heavy footfall need not worry about refilling tiny sanitizer bottles everytime With a dedicated product installed for hand sanitisation, you can rest assured of a long-term solution for your hygiene.
3. Contactless Sanitization
You cannot keep track of the numerous surfaces you might have touched. And using a standard hand sanitizer means you will have to touch its cap or the bottle itself to use it. This, in turn, adds to the risk of contracting unwanted germs on your hands. Thus, having a contactless sanitiser dispenser ensures you keep your hand shielded from germs.
4. Easy Installation 
OakMist has a robust design and is not only durable but also sleek. It doesn't occupy a larger space, and with OakMist Mini, you can have a minimal area near the entrance of your home or office dedicated to it. You only need a socket connection, and you are all set to use it.
Learn more about how OakMist can augment your healthy living habits.
Find out more about Oakter's smart IoT products here.