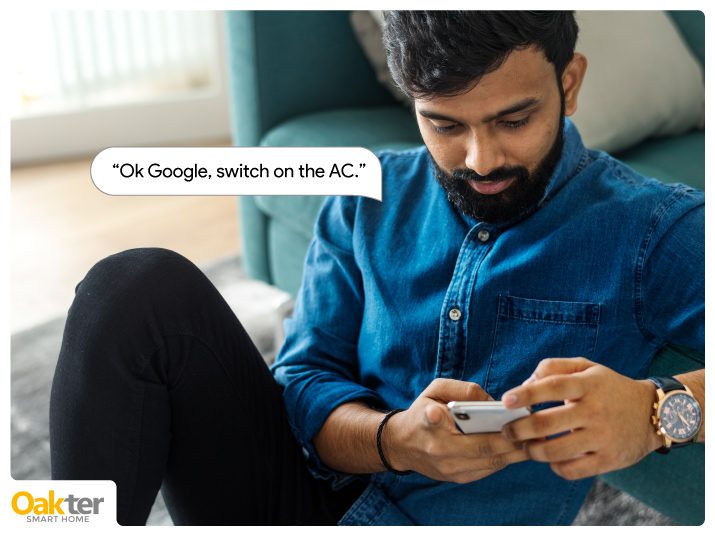 What Makes OakRemote the Go-to Smart WiFi Remote for Smart Home Lovers
Finding the remote for different appliances in your home is a typical Indian household problem. In fact, fighting over remotes is a common sight in homes as well as in movies. You need a One For All universal remote control to replace all the numerous remotes lying around your house. The OakRemote is a unique offering from Oakter that connects all consumer electronic devices with one hand-held remote control.
A universal remote control gives you the flexibility and eradicates the need to juggle multiple remotes to get the basic electronics in your home running.
Voice Control All Your Electronic Appliances With OakRemote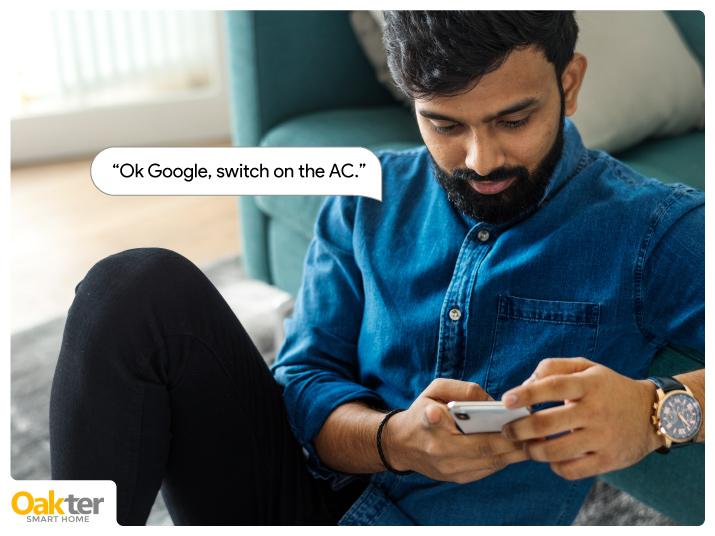 OakRemote is a smart WiFi universal remote controller which is a one-stop solution to remote woes. Let's find out how it works.
The OakRemote Technology To Convert All IR Devices Into Smart Devices
The OakRemote relies on infrared(IR) communication of binary signals. All the IR communications happen between two points; transmitter and receiver. Your conventional remote, which has a red blinking light, is an IR remote and works as a transmitter. And the electronic devices like your TV, DTH, AC, and Home Theatre work as receivers.
The OakRemote allows you to direct your electronic devices virtually with voice control, using Smart home assistants like Alexa and Google Home. Hence, you don't need to spend separately on WiFi-enabled devices. You can make your existing electronic device SMART by just bringing Oakter's Smart WiFi remote control home.
If you love automation and aspire to have a fully automated Smart Home, then OakRemote is the best option for you! Let's find out why :
Air Conditioner Control 
Oakter's app comes preloaded with the 'remote commands' of almost all the consumer electronic brands that sell air conditioners in India. The likes of Blue Star, Carrier, LG, Samsung, Panasonic, Daikin, Godrej, Whirlpool, and Videocon are among them. Even the lesser-known brands like Fujitsu and Midea come preloaded with Oakter's app.
Technically, you don't have to think about the brand of AC you have, as long as your AC has an IR remote. An IR remote is nothing but a typical remote with a small and almost invisible red light (we discuss more on how the technology works in the latter part of this article).
Voice controlling AC with OakRemote in your room is effortless. There is an exhaustive list of commands that currently Alexa and Google Home support. And this list is ever-increasing. So with time, you will have virtual assistants accepting more and more voice commands.
Here are some voice commands that you can try:
'Alexa' turn off AC
'Alexa' set temperature to 21 on AC
'Hey Google' increase temperature on AC
But that's just the starting point.
DTH And Smart TV Control
Managing TV and DTH using multiple remotes is a struggle that every household in India faces. Except if you decide to opt for Smart WiFi extenders like OakRemote. The OakRemote allows you to change channels using voice commands.
Also, it's worth mentioning once you use OakRemote, you don't need to remember channel numbers anymore. Instead, use the voice command naming the channel; the next thing you will witness on the screen will be your favourite channel on display.
You can perform almost all crucial functions with voice control that you usually do with DTH or Smart TV's remote. It includes increasing, decreasing volume, play-pause, and many more.
You can try out the following voice commands on Google/Alexa virtual assistants.
'Alexa' mute Airtel tv
'Alexa' play Sun tv
'Hey Google' increase volume on Dish tv
Sound Bar and Music System Control
The soundbars and music systems have similar IR remotes to TV and DTH. Hence, OakRemote works brilliantly with these systems as well. You will find many preloaded home theatre brands in Oakter's app.
If you don't see the brand of your home theatre in the app, you can easily add it using the 'learn button' feature. The feature allows you to perform any action that your IR remote recognises through OakRemote.
Try following voice commands with your home theatre.
'Alexa' mute home theatre
'Alexa' play home theatre
'Hey Google' increase volume on home theatre
Compatibility With Virtual Assistants and App Controls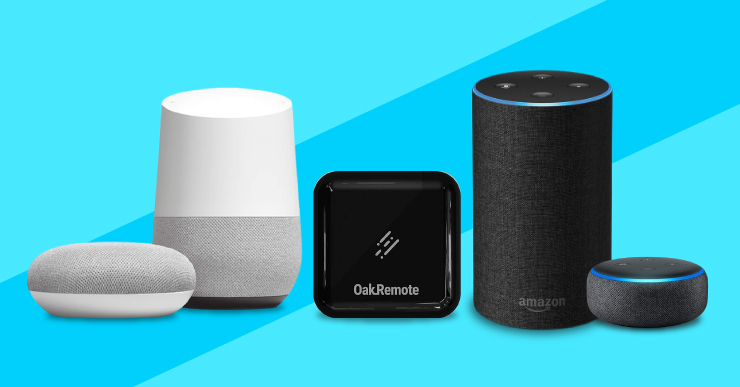 Smooth operation with virtual assistants is one of the unique features of Oakter's universal remote control. It's effortless to pair OakRemote to both the popular virtual home assistants, Alexa and Google Home.
Even if you don't have any virtual assistants at home, you can still control all your electronic appliances using the Oakter App.
Let's find out how all of it works!
Alexa and Google Home Integration
Pairing OakRemote with Alexa is as easy as it can get, all you need is an Alexa Companion App in your smartphone.
Open your Alexa Companion App and search for skills in the menu sections.
Find the Oakter Smart Home icon, click, and press "enable".
Enter your details, and sign in to your Oakter account.
That's it! Congratulations. You just successfully paired your Alexa virtual assistant to a universal remote control.
To pair Google Home with OakRemote, you need the help of the Google Home App.
 Search for "home control" in the menu.
Click on "manage accounts" and search for Oakter Smart Home in the drop-down menu.
Click on the Oakter Smart Home icon, and you will land on Oakter's sign-in page. The page that opens will display all the devices connected to your Google Home assistant.
That's all. You are good to go!
Oakter App Integration
If you are not using any of the above-mentioned virtual home assistants and want to access the universal remote control, we have news for you! The official Oakter Smart Home App makes it possible to control all electronic devices through an android/IOS phone.
You can find all the popular consumer electronic brands listed in the app. All you need to do is select your device's category, find your brand, and add it to your Oakter's account. You get all the control with the app that you get with virtual home assistants.
For instance, you can still turn on your AC before you storm into your room after a long day of work. And put the live cricket match on your TV, without touching your DTH or TV remote–Yes, it's all possible with Oakter's WiFi OakRemote and app. Try it out today.