4 Tips to Boost Employee Morale Through Innovative Corporate Gifts
Organisations consider implementing a return-to-work strategy or a hybrid model as a sustainable approach. However, as we prepare for the transition, it's important to remember that employee morale is critical.
And if you haven't thought about enhancing your employees' work environment, corporate gifting is what you should go for. According to a survey, about 80% of employees feel corporate gifts have improved their relationships with the organisations. The approach has increased productivity and contributed to employee morale resulting in improved profits for the company.
So, if you are looking for innovative corporate gifts, you need to find something that shows employees their efforts are recognised while also adding an element of fun to the workplace environment.
To help you get started, we have proposed four cost-effective, high-quality, and innovative corporate gifts to reward your employees while increasing your brand value. But first, let's see how these gifts work.
How Innovative Corporate Gifts Boost Employee Morale?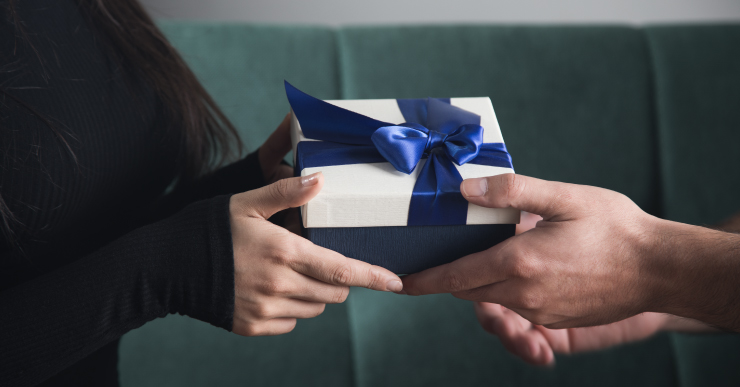 Are you unsure if corporate gifting is worth your time and effort? Here are some advantages that will help you make up your mind:
1. Creates a pleasant working environment
When it comes to boosting employee morale, innovative corporate gifts work as a powerful tool. By showing your employees that you appreciate their hard work and dedication, you create a positive work environment where employees feel valued and are motivated to work towards business goals.
2. Shows the employees that their efforts are valued
When you adopt a corporate gifting strategy, it indicates to the employees that you care about their development and are willing to invest in them.
3. Increases employee retention rate
Corporate gifts show employees that the knowledge and skills they bring to the table are appreciated, motivating them to stick with a company. These small gestures leave a lasting impact on the employees.
So, are you ready to amuse your employees and expand your business with some unique and practical gifts?
4 Tips to Find the Perfect Corporate Gifts for your Valued Employees
Corporate gifts are an excellent way of extending gratitude to employees for their hard work and dedication every day. However, the key to giving great gifts is picking out the right one, so you don't spend more than you have to.
Here are a few tips to help you find the perfect corporate gift:
1. Give meaningful gifts to enhance the work environment
Boost employee morale and productivity with the Oakter's Mini UPS for Wi-Fi Router. Wondering what's so unique about this device? It allows you to have an uninterrupted internet connection even when the power goes out. 
Here's how it contributes to experiencing a stable internet connection:
Connect your Oakter UPS device to your Wi-Fi router with the help of a cable included in the box.
When the power goes out, the device acts as a power backup, turning on the Wi-Fi and providing you with an uninterrupted internet connection.
And, the best part? It provides three and a half hours of battery life and takes only four hours to recharge.
This gift will undoubtedly improve your employee's working environment and assist in productivity.
2. Personalise the gift to make it even more memorable
Personalisation is what makes innovative corporate gifts memorable. The extra touch shows you've taken the time to think about your employee and want them to be a part of your organisation.
Let's say you have a coworker who enjoys trying new chocolates.
So, how about gifting a multi-flavoured chocolate basket? Add a handwritten note or record a video thanking them for contributing to the team to add a personal touch. This will make an employee feel valued, and they'll appreciate that you took the time to go out of your way.
3. Get creative! Think outside the box to find a truly unique gift
Think about what your employees would find helpful. You might be surprised to discover how a simple, high-quality device like Oakter's Wi-Fi Smart Plugs Kit can ease their life.
Oakter's Wi-Fi smart plugs are small gadgets that you can plug into your non-smart devices. 
To get started, you just have to follow three steps:
Install the Oakter mobile app on the device, available for both Android and iOS.
Configure Wi-Fi settings and connect your device with OakPlug Mini(for low voltage devices) or OakPlug Plus(for high voltage devices).
Now, you can use the Oakter app or use a voice assistant such as Google or Alexa to control your devices. Isn't it simple?
For instance, you might want to start your water pump at 6 a.m. and stop it at 6:30 a.m. You can connect the water pump plug to OakPlug Plus and schedule it from the Oakter's app, where you will find an option to set a time for the device to turn on and off. And that's it. Isn't it wonderful to have devices that make your life easier?
4. Sometimes, traditional gifts are the best ones to leave a lasting impact
If you're unsure what kind of gift your employee would like, gift cards are a great way to show them you care and are appropriate for any occasion.
Don't forget to include a note suggesting some great things they could buy with that gift card. For example, you can suggest a high-quality desk accessory or jewellery that they will cherish for years. If your employee is crazy about smart home devices, recommend going for Oakter's Smart Wi-Fi Universal Remote. 
No more losing remote controls, misplacing your remotes, or replacing a broken device. Just download the Oakter mobile app, configure your devices and let yourself be amazed at how easy, convenient and fast it is to control by sitting on the couch.
Are You Struggling to Find Smart and Innovative Corporate Gifts?
If you're having trouble finding the right gift, Oakter has the solution. It simplifies picking out the perfect gift by providing a range of smart home gadgets.
Oakter is an Indian company that creates smart home automation products that make life more manageable while staying within your budget. Products are straightforward to use and offer many features that set them apart.
If you're looking to purchase innovative products for your company or discounts on bulk gift orders, we can help you select something that will make a fun and lasting impression. So, stop worrying and connect with us today!