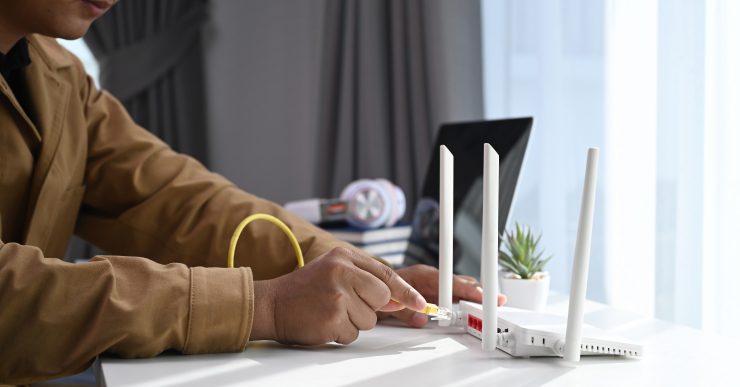 3 "WOW" Uses of Router UPS During Power Outages
Router UPS has come up as a sheer boon in these times of pandemic when working from home is the norm. These devices promise an uninterrupted network connection in a country where power outages are still prevalent in many parts. Moreover, these small bundles of power are packed with so many useful features that their small size shouldn't fool you.
So here, in this article, we will discuss the three most amazing uses of a router UPS. But first, let us briefly look at what the router UPS are.
What are Router UPS?
Wifi Router UPS are small-sized portable UPS. Similar to regular UPS, their primary function is to provide power backups to wifi/internet routers during power outages and fluctuations. However, unlike regular UPS, they are specifically used for low power rating devices like a Wifi router.
These tiny devices have a built-in battery pack and thus ensure power consistency even during load-shedding to provide power to devices without lag. In addition, they provide a power backup of up to 4 to 8 hours, depending upon their type and make.
There are several top quality Wifi router UPS available in the market. The Oakter MiniUPS, for instance, is one of the best ones out there.
However, one essential thing to note when buying a router is UPS. You will need to make sure that it is compatible with your Wifi router in terms of power ratings.
For instance, a router UPS 12V will only function properly for a 12V router, while the 9V variant will work for 9V routers only. If you want more tips on buying the right router UPS, check out this article on how to avoid buying the wrong Wifi Router UPS.
Some Amazing Applications of Router UPS During Power Outages
Now that we have understood what router UPS are, let us look at some wonderful things these tiny devices can do, especially during power outages:
1. As an emergency power bank
A router UPS uses a local battery pack to power your Wifi router or other devices during power outages. So, essentially, they can double up as a power bank to charge your smartphone if that is what you need it to do.
Besides, the UPS does not know or care what kind of load is drawing power from it, as long as the load doesn't exceed its power rating.
For example, mobile phones typically use approximately 2 to 6 Watts of power when charging, which is well within the power rating of a standard router UPS 12V or even that of the 9V variants. Thus, you can most certainly use the router UPS to charge your cell phone.
This can be very helpful in some crucial situations when your cell phones are running out of charge in the event of power outages, and you badly need them working.
Thus, a router UPS offers much more than it is generally credited for. In addition, they are one of the most versatile and ideal home devices. So, if you are looking to purchase a Wifi router UPS 12V/9V or other smart home appliances like Wifi Smart Plugs or Smart Wifi Universal Remote Controller, Oakter can be one of your best options.
2. For uninterrupted network connection
In today's times, almost all businesses and organisations, big or small, depend on the internet. Thus, an uninterrupted network connection has become a necessity rather than a facility.
This is where a router UPS comes into play, especially in a country like ours, where power outages are not uncommon, even in the larger cities.
Providing power backups to Wifi routers during power outages is the primary use of a router UPS. With an average of up to 4 hours of backup time, these Wifi router UPS can provide you with an uninterrupted network connection through the most power outage spells.
Some of the significant advantages that these mini-UPS offer via uninterrupted network connection are as follows:
Uninterrupted video conferences
Secure bill payments
Uninterrupted online classes for children
Stressless trading
…and many more.
Moreover, some of these portable UPS, like the Oakter MiniUPS, can also protect your routers in the event of power surges.
3. As a power backup for smaller devices other than a Wifi router
Now let's not get misguided by "Wifi Router UPS" nomenclature. These portable UPS are not specific to Wifi routers only. They can provide power backups to any electronic/electrical device with an adequately low power rating that matches its output.
A router UPS 12V, for instance, can offer power backups to most other smaller devices such as CCTV cameras, biometric systems, set-top boxes, several Bluetooth gadgets and more.
Thus, the application of a router UPS is not exclusive to Wifi routers. All you need to check for is the power rating compatibility of the intended device with the mini-UPS.
Once that is sorted, you can power any of these smaller devices during power cuts as per your requirement using the mini-UPS.
In addition to these products, we at Oakter also deal in touchless hand sanitiser dispensers. We strive toward delivering the best quality products at the most competitive prices.
Our products aim to improve productivity for our customers and enrich their experience. Moreover, we pride ourselves that all our products are 100% made in India.
We accept bulk orders of all our products. For more information, you can reach out to us at oye@oakter.com.