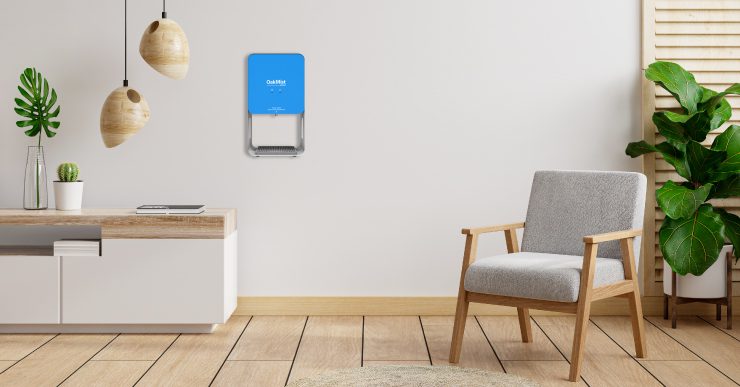 5 Reasons Why People Like Oakmist Contactless Sanitizer Dispenser
The Covid-19 pandemic woke the world to many otherwise overlooked issues, like personal and community hygiene. The WHO says that community hygiene and provisions are critical to prevent the human-to-human transmission of the SARS-CoV-2 virus.
For that reason, sanitizers have become the world's go-to solution for maintaining the WHO/CDC-suggested hygiene guidelines. This is reflected in fact, more than 150 new manufacturers entered the Indian sanitizer market in March 2020, when WHO declared COVID-19 as a pandemic.
While soaps are great for removing disease-causing microbes, including the COVID-19 virus, from surfaces, they are not the most convenient solution. Fortunately, WHO/CDC also says sanitizers with at least 60% alcohol are effective against removing COVID-19 particles from the hand. The best part: sanitizers get the work done in a fraction of the time and without the need for water, washbasin, and so on.
Therefore, keeping in mind the growing need for sanitization, Oakter has developed the Oakmist—a contactless sanitizer dispenser that is easy to use and safer than your average bottle of sanitizer.
Of course, it is not the only sanitizer dispenser in the market, but it's hard to find anything better than it in terms of usability, functionality, and efficiency.
5 Reasons People Opt Oakmist Contactless Sanitizer Dispenser
The primary reason behind the growing popularity of the Oakmist contactless sanitizer dispenser is its ease of operation. Learn more about the reasons that make Oakmist people's popular choice:
1. Easy application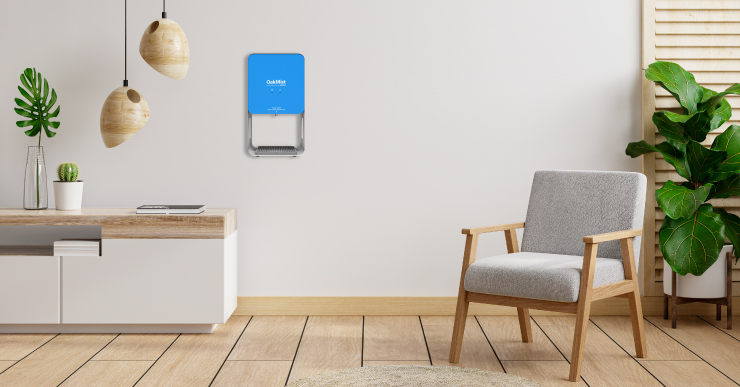 Many people look at contactless sanitizer dispensers as a complex and specialised appliance that requires professional maintenance.
As a result, they stick to their traditional bottles of sanitizers, which are neither cost-effective nor convenient.
Oakmist addresses both these issues in its contactless sanitizer dispenser.
The Oakmist touchless sanitizer is simple to install, and you do not need a professional to get the work done.
As soon as you receive your product, it is good to go in a few simple steps mentioned in the manual. You can place it on a table or mount it to a wall.
Until now, contactless sanitizers had a shroud of complexity around them. People would look at them as high-end appliances meant for shopping malls and airports.
Oakmist has successfully altered this notion with its easy-to-use contactless sanitizer dispenser.
2. Use wherever you want to
Most people are not familiar with the benefits of contactless sanitizer dispensers at homes or personal offices.
Instead, people only attribute them to high-traffic areas such as railway stations, airports, shopping malls, movie halls, etc.
One of the most significant resistance to the domestic adoption of sanitizer dispensers is because of the notion that they are challenging to install, maintain, and are pricey.
Nevertheless, Oakmist has changed that narrative.
People are now opening up to the possibility of using them at home or home office because they're so easy to install, use and come at multiple price points.
The Oakmist is already used in high-traffic and high-profile locations such as the office of India's Ministry of Defence, Office of the Ministry of Finance, Gas stations in Mumbai, SBI branches among other places.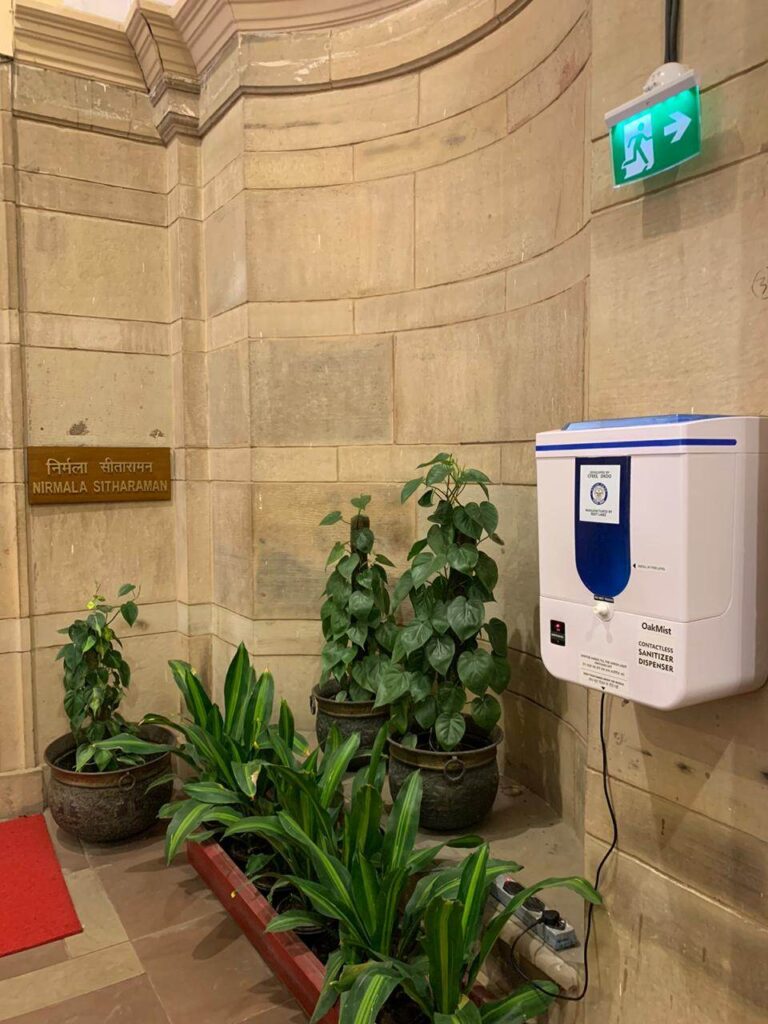 And with experts suggesting that the COVID-19 is here to stay, we say a device like Oakmist is a worthy investment.
3. Available in multiple sizes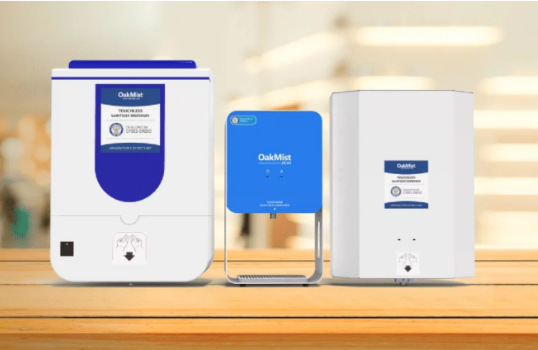 People avoid contactless sanitizer dispensers since they only see bulky ones at airports and malls and think that's the standard size. Oakter has addressed this concern with its lineup of Oakmists.
Oakmist contactless sanitizer dispensers are available in three sizes: 1.2 litres, 5 litres, and 10 litres. So now, whether you want to use it for your home or office, you're covered.
For instance, if you have a family of three to five, the 1.2-litre variant will keep you going for weeks. Not to mention the striking and high-end look the 1.2-litre variant has, making it not just useful but an addition to your home decor.
Alternatively, the 5-litre variant strikes a good balance for use in a large family to a small-sized office or locations with a relatively lesser footprint.
However, medium-to-large offices and commercial spaces would not benefit from the 1.2-litre variant—the 5 or 10-litre variants are perfect for such locations.
Oakter recommends choosing the suitable capacity of the Oakmist depending on your usage frequency for the best value-for-money and optimum efficiency.
4. Optimum usage of sanitizer
While sanitizers are not particularly expensive, let's accept: we need them very often. Therefore, the costs of frequent sanitizer usage add up and show in your monthly budget.
The Oakmist contactless sanitizer dispenser helps cut costs by optimising the use of sanitizer liquid.
The nozzle in the device makes a fine mist of sanitizer that ensures only the required amount is dispensed yet covers the applicant's hands.
It is a massive benefit for spaces that need sanitization all the time.
Minimising wastage is not only about money. You are playing a small role in making the world a better place by using resources to their maximum.
It's one of the overlooked reasons behind the growing popularity of the Oakmist contactless sanitizer dispenser.
5. The gift of safety
One of the most significant cultural changes brought forth by the pandemic is how we gift.
People are now appreciative of gifts that promote hygiene and safety—be it through Covid protection kits or healthy food.
Similarly, and unexpectedly, the Oakmist contactless sanitizer dispenser has become a popular gifting option.
Employers are gifting it to their employees and stakeholders; people are gifting Oakmist to their loved ones…
Oakmist makes a meaningful gift to people you care about. After all, your gift could end up saving lives! (see: COVID-19 spreading through contact; and keeping hands clean can save lives).
Other Benefits of Oakmist Lineup
Oakmist has a lot more than described in the five points above. Some of them are:
It comes with accessories such as a tertiary spill-collecting mat, collapse funnel for refilling, wall-mount screws, and power adapter (model-specific).
Both table-top and wall-mount are capable (model-specific).
It uses high-tech ultrasonic sensors to detect motion.
Comes in premium designs and lightweight aluminium, steel, or ABS plastic body depending on the model.
Android app compatible depending on the model.
It can last up to 1,000, 5,000, and 10,000 sprays between refills depending on the model.
1-year manufacturing warranty.
For all the misfortune and loss that the pandemic led to, it also brought out the best in humans to deal with adversity. The Oakmist contactless sanitizer dispenser is testimony to the innovation that hardship and adversity can trigger.
Visit the Oakter website to learn more about the Oakmist Contactless Sanitizer Dispenser and a range of other intelligent appliances to make your life easier.