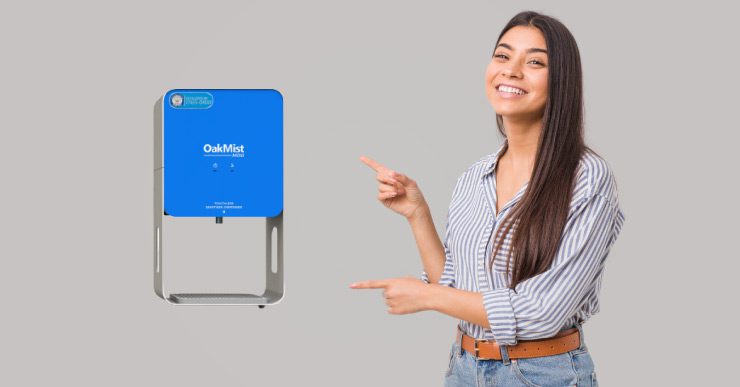 Four Reasons Why Owning Oakmist Contactless Sanitizer Dispenser Will Upgrade Your Life
The pandemic brought a significant shift in people's daily routines. Compelling people to work from their homes, Covid-19 changed our lifestyle. One important point to remember is that Hand hygiene is important.
As a result of this, the demand for sanitizers boomed. From public places to households, sanitizers became a necessary. But to make hand hygiene an easy and comfortable process, people started installing the contactless sanitizer dispenser
Using a contactless sanitizer dispenser minimises your risks of being ill even though you are having your regular meetings in person.
Four Reasons Why Owning Oakmist Contactless Sanitizer Dispenser Will Upgrade Your Life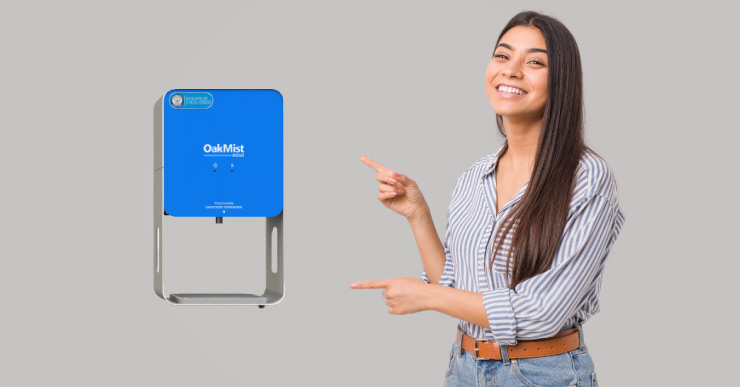 Our hands come in contact with a variety of bacteria and viruses throughout the day, therefore cleaning and sanitizing them will help you avoid Covid-19 and other diseases. Recognising the need of disinfecting our hands more frequently, one should use hand sanitizer dispensers. Oakter's OakMist is a made in India sanitizer dispenser that comes with a nozzle that ensures minimum wastage. Here's more on how you can make your daily hygiene easy and smooth using OakMist. 
1. Increased sanitization with minimal contact
In a traditional hand sanitizer dispenser, people must touch the faucet, hand drier, or sanitizing wipe dispenser wall mounted in a standard hand-washing setup. All of this increased touch can distribute germs throughout the area, increasing the risk of COVID-19 transmission. By avoiding needless touch, a no-touch sanitizer dispenser and pedestal remove this danger.
The "no-touch" feature in OakMist allows for little interaction with other surfaces, which helps to keep germs at bay. A no-touch sanitizing station eliminates the danger of needless touch. Rather than a switch to provide a potent sanitizing solution in one quick, OakMist employs motion detectors for super-easy operation.
2. Easily accessible, anywhere
A no-touch hand sanitizer dispenser, whether kept on a hand sanitizer stand or mounted on the sides of a wall or some other surface, is a handy approach for any and everyone to continue sanitary control standards.
For instance, a contactless sanitizer dispenser kept in places where people frequently visit such as shared workspaces or offices will be used often. People aren't tempted to forgo hand hygiene because it requires a trip to the toilet or a hand sanitizer station on the other side of the building. All it takes visitors and employees is to use the sensor-based hand sanitizer disposer installed close by.
As people have resumed attending events and parties, they would rather spend less time worrying and thinking about finding a washbasin to wash hands and enjoy the party instead. They would prefer to use a hand sanitizer dispenser.
For the guests to get their basic hygiene checked, they must use a tap, soap dispenser, and dryer when washing their hands. There stays a possibility of germs on the hands and elsewhere to disseminate all over the area as a result of this. Hand sanitiser dispensers make it simple for visitors to sanitize their hands. Using a hand sanitiser dispenser will save you time and will prevent bacteria from spreading among the guests.
3. Safety 101
Cleanliness should always be a priority, no matter what and where your business is located. Everyone would want to know and see that they are protected against sickness when they arrive or visit a busy place. Bacteria that is harmful to humans may survive in the most improbable locations and can simply be passed from one person to another. Hand sanitizers can help prevent gastrointestinal and respiratory diseases from spreading among people.
OakMist's feature of minimum hand contact and maximum safety offers a strong bacteria-killing chemical than regular hand soap, allowing for less contact with adjacent surfaces. 
For example, as employers are calling their employees back to office. Therefore using a hand sanitiser will not only eradicate germs but will also minimise the number of sick days anyone will need to take.
4. You may wash your hands but not everyone else does
You could be one of those people that washes their hands with water and soap for the whole 20 seconds after using the toilet, but that isn't the case for everyone. Assuming that some people do not maintain washroom hygiene, this could risk the spread of germs.
People who don't wash their hands touch the same workplace items, doorknobs, keyboards, fridge handles, coffee pot handles, and phones as you do. Even if you wash your hands correctly, diseases can spread swiftly in this manner.
A simple spray of sanitizer from a touch-free hand sanitizer dispenser can save you from becoming ill from the germs left behind by others. It's also a wonderful technique to disinfect your hands rapidly, even if you do thoroughly wash your hands after using the toilet.
A contactless sanitiser dispenser is an excellent method to keep hands germ-free. Additionally, having them placed in your office communicates to your customers and employees that you're serious about encouraging good hand hygiene.
Touchless hand sanitizer dispensers have various advantages, including the fact that they are simple to use and install. This is critical because if they are difficult to set up, fewer people will utilise them. People may swiftly take some hand sanitizer as they pass a dispenser and go on their way.
Additionally, having hand sanitizer stations in toilets can help to keep germs at bay and prevent people from becoming ill.
Hand sanitizers with alcohol are an excellent and effective approach to minimise the number of germs on your hands. A hand sanitizer can not only kill the germs but also is an excellent tool for businesses where employees need a quick way to disinfect their hands and for your home or residential society where one may see hundreds of people daily, in and out.