What Makes OakRemote a Smart Gift for Remote teams?
'Work From Home' or Remote Working has become an inseparable part of the current work structure. And this work model is here to stay. According to a survey by Zoho Corporation, around 95% of Indian companies are planning to stick with remote working for the next two years.
A boon in remote work invariably will lead to dependency on technology to maintain seamless workflow in the organisation. So, a smart gift for a remote team has to be something that eases their lives and adds to their tech stack.
One such ideal gift for your remote working teams is OakRemote by Oakter. Learn more about the device here.
Also Read: Managing Teams Remotely? Use These Corporate Gifts for Employees to Make Work Easier
OakRemote: One Device So Many Possibilities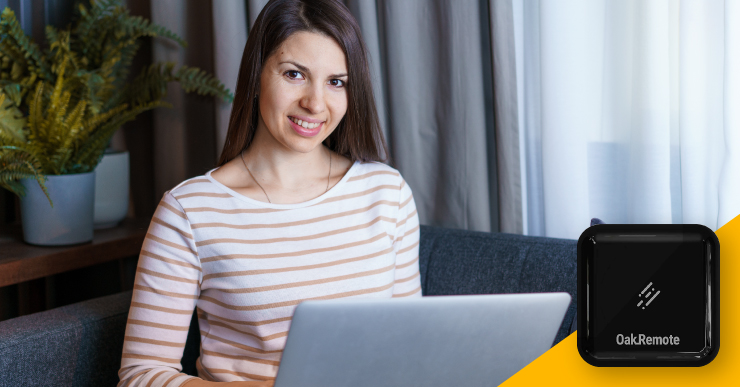 Imagine having total control over every gadget with your voice and on your fingertips! OakRemote is a gem of a device that will serve as an excellent gift for your remote working teams in the following ways:
1. Time management
Overworking and procrastination are two sides of the same coin. While some employees struggle with procrastination, others have difficulty unplugging from work.
OakRemote eliminates the need for having separate remotes for every device. This will help your employees stay connected to all devices and help them consciously switch off distractions without moving a muscle.
2. Cost saving
All remote controllers need a battery and thus lead to a need for buying batteries for all of them. OakRemote eliminates the need to keep up with this mundane task of buying batteries for your devices.
Imagine having to miss out on your favourite shows only because your TV remote has run out of batteries! OakRemote will eliminate this possibility. Also, it boosts optimum usage of electricity as the user becomes more aware of switching off devices when not in use.
3. Convenience
Imagine a scenario where one of your employees finally decided to work out after almost a week. Then, suddenly, they realise they have to watch exercises on youtube to follow them correctly.
OakRemote can be a boon in such a case, and what's more, it can be simultaneously used to switch on the music system as well. It becomes a convenience at the gym!
Also Read: Why MiniUPS is the Perfect Gift for Remote Employees?
4. Real remote-control
OakRemote helps you control all devices from anywhere in the world. For example, if one of your team members is on vacation and forgets to switch off a device or is coming back from a vacation, OakRemote can switch on the AC to set the room's temperature as per their convenience.
5. Compatibility
OakRemote is compatible with Alexa and Google Assistant, which adds an extra layer of connectivity with all the devices. This not only saves time but levels up the usability of the existing devices in our homes.
6. Mobile app
OakRemote comes bundled with a mobile app that seamlessly hands over the control to the user. This will enable your teams to have visual feedback on the commands and thus give a premium experience.
The app also gives an eagle-eye view of all the connected devices and is an excellent tool to manage all devices.
7. One remote for all devices
There is a separate DTH remote and a TV remote. This often induces confusion and adds to the hassle of maintaining batteries for both.
For instance, on the weekend, if someone wishes to switch on the AC, turn on the TV to tune into their favourite show, and at the same time their kids wish to use the music system in their rooms, OakRemote is the best tool to give to your employees.
Also Read: How to Choose the Right Corporate Gifting Partner
All About Oakter
Oakter has been a pioneer in using technology to make everyday life easier. Oakter's state-of-the-art, Made-in-India products have been combined with offerings from technology behemoths such as Sony's.
OakRemote is only one of the many smart devices by Oakter. Oakter's portfolio includes a smart plug, automatic water level controller, automatic hand sanitiser dispenser, power backup for WiFi router, and more. You can explore the entire product portfolio in detail using this link. 
In addition, Oakter's products are entirely plug-and-play and straightforward to set up. Explore all the Oakter smart-home products and connect with us for more information on any products that caught your fancy. So get in touch with us today.