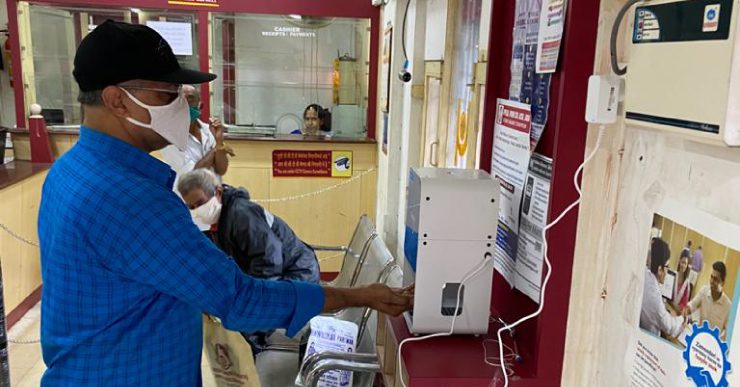 What Makes Oakmist Mini an Ideal Touchless Sanitizer Dispenser?
According to the Central of Disease Control (CDC), frequent hand-washing with soap and water for 20 seconds is one of the most effective ways to prevent the spread of Covid-19 after vaccination and mask-wearing.
However, there may be times when you may not have access to soap and water. For such cases, the CDC recommends "using an alcohol-based hand sanitizer that contains at least 60 per cent alcohol," especially "after you have been in a public place, or after blowing your nose, coughing, or sneezing."
That brings us to the importance of hand sanitizer in public places where soap and water may be impractical. As more workplaces are starting to resume operation, a reliable hand sanitization mechanism is, therefore, a must to keep COVID-19 and its deadly mutations in check.
That's when a product like the OakMist range of touchless sanitizer dispensers makes a tangible impact on the ground.
The Need for an Ideal Touchless Sanitizer Dispenser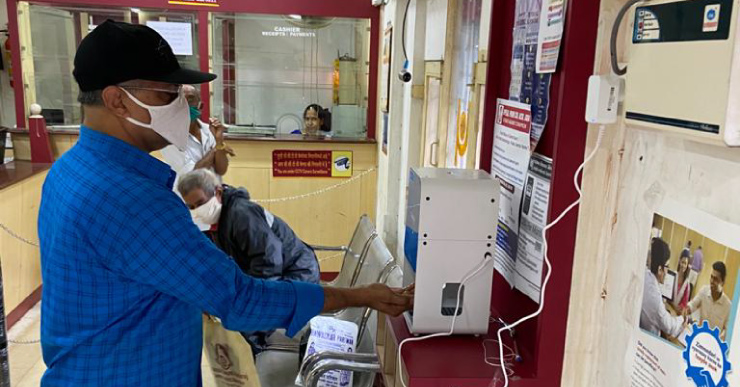 Touchless sanitizer dispensers minimise the risk of cross-contamination that manual bottled sanitizers or hand-washing facilities may be vulnerable to, especially in high footfall places.
A "no-touch" sanitizer dispenser eliminates the risk of needless touch by using motion sensors rather than a button (or touching the tap in case of hand-washing) to provide a powerful sanitizing solution in one quick, easy movement.
Here are some more reasons to install a touchless sanitizer dispenser:
1. Habit development
It takes a long time to develop a habit; say, for instance, the habit of sanitizing hands at frequent intervals. After all, if sanitizing involves a few metres' trip to the washroom or the sanitizing station afar, people may be tempted to skip it.
However, a touchless sanitizer dispenser, whether mounted on a stand or nearby walls, is a handy approach for staff to maintain sanitary control standards and make it a habit.
Also Read: Why Your Home Needs a Compact Automatic Hand sanitizer Dispenser?
It is straightforward to use; all you need to do is hold your hands in the discharge station for the right amount of sanitizer to dispense, and you're done.
2. No risk of cross-contamination
Our hands are exposed to various things throughout the day, and they're effective in transporting microbes elsewhere and, worse, into our bodies.
Cross-contamination from hands to any body's inlets could make you sick. Therefore, timely and precise cleaning of the hands is critical. Here again, a touchless sanitizer dispenser installed in the vicinity makes hand sanitizing a no-effort job, and hence people will not be tempted to skip it.
3. Safe environment
A certain degree of paranoia has gripped people's minds concerning hygiene. Installing a contactless sanitizer dispenser in offices and other public places could create a sense of security in people's minds. It also presents you as a person who values health safety protocols.
4. Mass sanitization
It is easy to guarantee an individual's hand sanitization. But when catering to many people, it becomes tedious to ensure 100% adherence.
However, having a touchless sanitizer dispenser installed at an entrance or any prominent gathering place, like restrooms, washrooms and more, could help sanitize a large number of people effortlessly. Moreover, you don't need to hire personnel to dispense hand sanitizer.
You've just seen how having a touchless hand sanitizer around could ensure health and safety for people. But to achieve that, you need a product from a credible brand that will perform seamlessly and is built to last, and you can set and forget!
OakMist Mini is one such product from Oakter to ensure that hand sanitization becomes second nature.
Also Read: Use-Cases That Makes the Mini UPS the Perfect Device for Every Home
OakMist Mini: A Perfect Touchless Sanitizer Dispenser
The OakMist range of touchless hand sanitizer is an entirely touchless hand sanitizer dispenser approved by the Defence Research and Development Organisation (DRDO) of India. It offers a best-in-class solution that serves as an excellent sanitization tool for homes, offices, and other public places.
The OakMist Mini is the smaller sibling of the OakMist Plus. All the same features but a more compact and sleeker design make it suitable for places with relatively lower footfall.
You can mount both variants of OakMist on the wall or place it on your tabletop.
Following are some of the features of OakMist Mini:
1. Reduces human contact
The OakMist Mini comes with a non-contact sensor that operates without any human touch. This eliminates the risk of germ contraction and thus, in turn, ensures that all your (family) members are shielded from cross-contamination.
2. Effective hand Sanitization
People may not use the right amount of hand sanitizer required to kill infection-causing germs instantly. But that would not be the case when an OakMist is around. The product is designed to dispense the right amount of sanitizer (1ml per spray) for every single use.
3. Minimum wastage
OakMist Mini's nozzle creates a mist spray to ensure hands are thoroughly and effectively sanitized with the minimum usage of sanitizers. People often either underuse or overuse a bottled sanitizer or overuse it depending on their urgency. This depletes the bottled hand sanitizer well before its intended time. This won't happen with the OakMist Mini. With this product, each refill lasts 1000 sprays!
4. Mobile app
OakMist Mini comes bundled with a mobile app which adds another level of user accessibility. You can set spray time and wait time between sprays using the settings in the mobile app! The instructions and troubleshooting options are also available in the comprehensive app.
5. Easy installation & compact size
OakMist Mini has a robust design and is durable and sleek. It doesn't occupy a larger space, and you can have a minimal area near the entrance of your home or office dedicated to it. You only need a socket connection, and you are all set to use it.
Also Read: 7 Best Spots to Install Automatic Hand Sanitizer Dispenser at Workplace
Oakter's Brand Value
Oakter is one of the pioneers of producing quality home automation products in India. The company has full-stack in-house extensive manufacturing capabilities. In addition, Oakter holds the reputation of working with tech names like Schneider electric, Google, and Sony.
OakMist touchless sanitizer dispensers are available in three  variants of 1.2, 5, and 10 litres. The product catalogue of Oakter dramatically aligns with the needs of Indian consumers and is aimed at levelling up the smart home experience. What's more, all of the Oakter products are plug & play and relatively easy to install. All of these offerings are competitively priced as well. You can browse all their products here. For more information, contact us today!