Key features of DRDO Sanitizer Dispenser and Why You Must Have It In Your Home or Office?
COVID-19 has led us to these unprecedented times where some simple but vital safety protocols have become necessary to fight a global pandemic. These precautions have become part and parcel of everyone's lives.
Washing hands with soap and water every time you come home from the outside is possible to some extent. However, when it comes to outdoor spaces where the supply of water is not in abundance, this becomes difficult. Even at a house with a lot of footfall, hand washing can be tedious and thus, often skipped by the entrants. This is why the use of a sanitizer is becoming the norm. Offices have started installing sanitizer dispensers as it proves to be more efficient in curbing the spread of any unwanted germs and infections.
Key Features of DRDO Hand Sanitizer Dispenser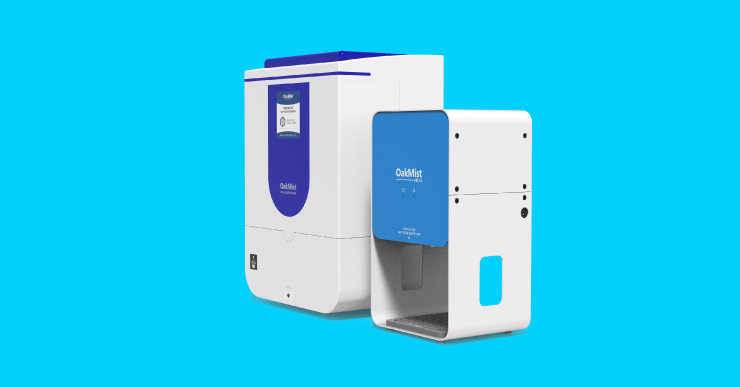 Following the pandemic, various brands have come up with their sanitizers and dispenser machines. But which brand should you trust and what features should you look for are common questions. So, our Defense Research and Development Organisation (DRDO) in association with us at Riot Labz decided to step up and launch OakMist – the touchless sanitizer dispenser machine.
मुझे यह कहते हुए गर्व हो रहा है कि DRDO ने COVID-19 के खिलाफ लड़ाई में योगदान देने के लिए अपनी निरंतर प्रयास के माध्यम से पिछले 3-4 महीनों में 50 से अधिक उत्पाद, जैसे bio suit, sanitizer dispenser, PPE kits आदि विकसित किए हैं: रक्षा मंत्री

— रक्षा मंत्री कार्यालय/ RMO India (@DefenceMinIndia) May 11, 2020
Here are some key features of our sanitizer dispenser:
1. Zero-contact use
The major drawback of using any sanitizer, be it a bottle or a spray, is its need to be operated with our hands. Even many dispenser units require hand or feet contact. This way, the germs that were on our hands can easily be transferred to the sanitizer dispenser itself and spread further. The touchless, sensor-powered technology of DRDO's sanitizer dispenser destroys the virus before it gets transferred to anyone or anything.
2. Ideal for busy areas
Social distancing rules are now in play and crowd gathering has decreased. However, people still have to go out for work and daily chores. Public places like offices, transit points, hospitals, police stations, etc. see a lot of traffic daily. To follow the hand hygiene protocols, the DRDO sanitizer dispenser can be installed as it reduces the hassle of waiting in line for a long time to wash hands.
3. Ideal for home use
Wall-mounted and space-efficient, this dispenser is ideal for home use and easy to set up. Install it at the entrance or opt for the more compact version, OakMist Mini and place it anywhere near an electric power socket. The simple and sophisticated design will also accentuate the look of your home.
4. Easy application
Admittedly, using a sanitizer is definitely not a difficult task. But the quick, touchless use of the DRDO dispenser makes the whole process much easier. It automatically pushes out the right amount of sanitizer to effectively clean your hands and get rid of any germs. The dispenser works for 1000 sanitization cycles without needing a refill.
Even the refill process is very easy. Take a look:
Why do you need to have it in your home or office?
1. Maximum safety
Using a touchless sanitizer dispenser machine makes the whole process of sanitizing much quicker, effortless, and without any fear of getting infected by an infected person who has touched the machine.
2. Easy operation
While carrying bags or even talking on the phone, it's quite difficult to keep them all aside, especially if they also need to be disinfected. A quick dispenser like this makes it sure simple, especially in busy establishments while entering and exiting the premises.
3. Peace of mind
The DRDO sanitizer dispenser has been built in such a way that it doesn't require regular maintenance. All you need to do is set it up on the wall of your home or office, and keep refilling them at regular intervals. During situations where assistance is required, the company's customer support team and the 1-year replacement warranty provided will help you out, leaving nothing for you to worry about.
4. Cost-effective
Looking at the difficult times everyone's been going through during the pandemic, spending luxuriously on anything is not advisable. In the same manner, putting yourself at the risk of infection is worse. DRDO has designed and built this dispenser in a way that makes it affordable for the general public without compromising on safety and quality.
5. Sturdy, long-lasting solution for ensuring hand sanitization.
The small hand sanitizer dispensers used in the offices and homes are used rigorously and hence need to be refilled just as regularly. Keeping this in mind, the DRDO dispensers have a bigger storage capacity that enables you to use them for several days before there's a need for a refill.
6. Complete sanitization of hands
These sanitizer dispensers have a compact body and don't require a lot of space. They push out the same amount of sanitizer at each turn in a mist-based spray which ensures complete cleaning of hands and less wastage of the sanitizer. Hence, such space-efficient products and devices are highly recommended.
Where to Buy DRDO-Approved Sanitizer Dispenser?

A lot of hand sanitizer dispenser units are available in the market today. However, in an initiative to tackle the COVID-19 crisis, the Defence Research and Development Organisation (DRDO) has come up with an automatic touchless sanitizer dispenser in association with Oakter – a subsidiary brand of Riot Labz Pvt. Ltd. This device is known as OakMist and available in two variants – OakMist Plus and OakMist Mini.
OakMist Plus is a commercial variant that is already being used at airports, many private and government offices, banks, shopping malls, temples, hospitals, and even at the offices of our honourable ministers. It is perfect for housing complexes as well. OakMist Mini is more compact and portable and ideal for homes or office cabins.
To know more, get in touch with us today.