Sanitization – The Key To Resumption of Delhi Metro Services After Lockdown
The Delhi Metro has finally resumed operations on 7th September after being closed down for months due to the pandemic caused by the novel coronavirus. The Yellow Line and Rapid Metro were the first routes to be opened for the commuters. Two days later, on 9th September, Blue and Pink lines also resumed their services and trains are now running on a truncated timetable during this phase.
This is a sign of hope for many as this hints that we are getting back to normal. However, there is also anxiety among the public whether this step will lead to a rise in the COVID-19 cases in Delhi and the surrounding areas.
Early morning photos from the Yellow Line today! Travel only if needed. #MetroBackOnTrack pic.twitter.com/90UnRn54Bz

— Delhi Metro Rail Corporation I कृपया मास्क पहनें? (@OfficialDMRC) September 7, 2020
Proper safety and sanitization protocols are the primary concerns of the public and the government right now. So, the restarting of Delhi Metro services have brought along some strict guidelines that must be followed by the commuters. Let's go ahead read about these COVID-19 safety measures adopted by the Delhi Metro Railways Corporation (DMRC).
Safety Protocols Initiated at the Delhi Metro Stations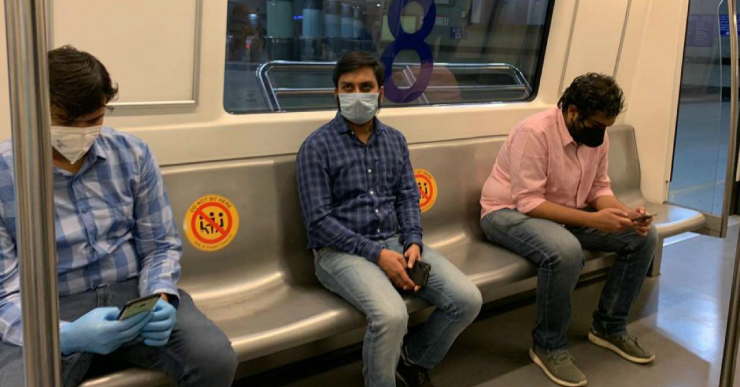 The DMRC has appealed to the people to use metro services only when necessary. And every time they enter the metro station premises, they have to follow these regulations:
Social distancing
The rule of thumb to prevent coronavirus is social distancing. While this is a challenge in public places, the DMRC is strictly maintaining social distancing at the metro stations as well as inside the trains. The carrying capacity of the metros has also been curtailed. While sitting, the commuters are asked to leave some space between them as per the guidelines. To avoid crowding, only a few entry and exit points are kept open for the passengers.
Masks and Face Shields 
To stop the spread of coronavirus, it is mandatory to wear masks when you step outside the house. Every citizen must make sure they wear their masks correctly, covering their mouth and nose.
The public will have to wear masks whenever they want to travel in the metro. Strict fines will be charged to the commuters if they are not wearing masks while travelling.
It has also been said that few selected metro stations will have masks available at low prices for commuters in need.
Touch-free Thermal Checks and Sanitization 
The DMRC has planned to keep touch-free thermal checks, and only those who have no symptoms will be permitted inside. The metros will also be sanitized regularly. Escalators, lift buttons, handrails, gates touchpoints will be disinfected every four hours. There are touchless sanitizer dispensers available for the public at every entry/exit point and at strategic locations across the platforms. Every passenger is advised to sanitize their hands while entering and before leaving the station premises.
Talk Less
The DMRC appeals to the commuters to 'talk less' during their travel in the metro. This will prevent short-range aerosol transmission.
If followed correctly, these initiatives and guidelines will be helpful in getting the metro connectivity back to normal, albeit slowly and steadily.
Best Spots for Installing Touchless Sanitizers at Metro Stations
Elevators
Closed spaces like elevators are prone to germs and viruses. Installing contactless hand sanitizers in or outside the elevators will ensure everyone gets their hands clean before entering.
So, even if they are using the lift buttons or touching any surfaces beside it, they can clean their hands instantly and the spread of infections is curbed.
Entry and Exit Points
It is crucial to have touchless sanitizer dispensers at the entry and exit points so that people can sanitize their hands while entering and exiting the stations.
It is the perfect way to keep cleaning your hands in case you've touched any surface while travelling.
Escalators
There are so many people who take the escalators at the metro stations. It is a hotspot for germs. Hand sanitizers near the escalators will ensure clean hands if they've sneezed or coughed on their way up or down.
Even the handrails of the escalators are prone to germs. So, a touchless sanitizer will come to the rescue for everyone who needs it immediately.
Inside the Metro
The DMRC is planning to minimize the crowd in the metro for social distancing. Installing compact hand sanitizers inside the metro ensures that people have access to sanitizers even on the go. This helps especially if anyone wants to sanitize their hands before touching their masks for some emergency reasons or drinking water, etc.
Checkpoints 
There should be hand sanitizer dispensers near the checking points. It is an essential step because people need to clean their hands with alcohol-based sanitizers after getting checked by the metro stations' staff.
It should be mandatory to keep using sanitizers whenever necessary, especially after coming in contact with someone else.
The government is taking a huge step to restart the country by resuming the metro service. By following the guidelines correctly, it will surely make a difference.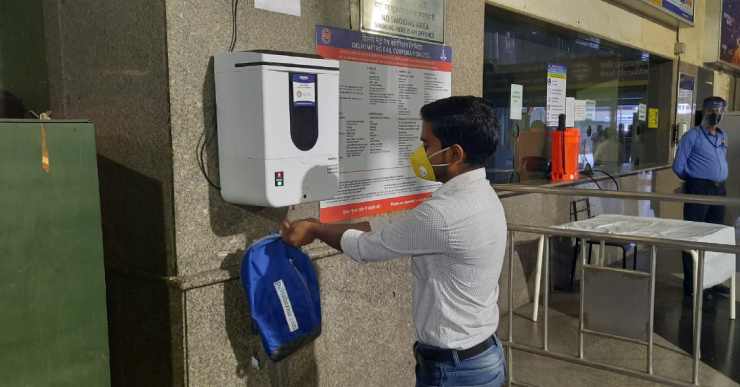 As per surveys, people avoid washing their hands thoroughly. With an automatic sanitizer dispenser, it will become easy for commuters to use and go. It is one of the best solutions to encourage people to clean their hands.
Considering this, the DMRC has installed OakMist touchless sanitizer dispensers across the various metro stations. It is DRDO approved and is available for all kinds of corporate and public spaces. It is equipped with an ultrasonic sensor that ensures no human contact is necessary to clean hands. It sprays a mist-based technique that offers complete cleaning of hands.
OakMist is already being used at airports, many private and government offices, banks, shopping malls, temples, hospitals and even at the offices of our honourable ministers. It is perfect for housing complexes as well.
To know more about OakMist automatic sanitizer dispensers, visit here.