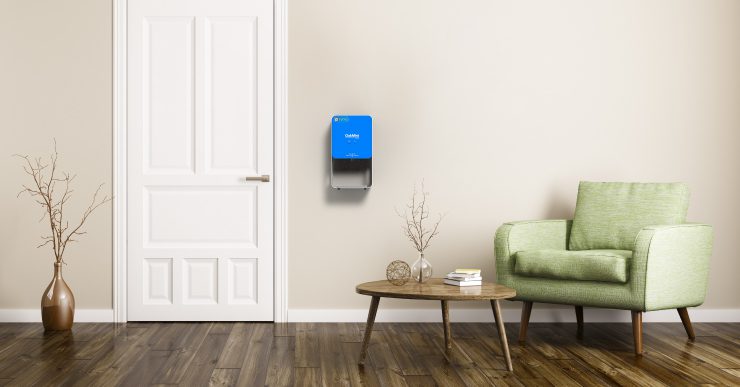 Are Automatic Wall-Mounted Sanitizer Dispensers Better Than Foot Operated Ones?
The Coronavirus period has resulted in an economic downturn, long lockdowns, and people hesitant to step out of their homes even during the unlock phase. Every sector is facing a huge slack, be it the product manufacturing or the services industry. However, there is one particular product that was previously underestimated but has suddenly seen a huge upsurge in demand i.e. sanitizers.
According to Neilson India, the size of the sanitizer industry touched Rs. 43 crore in March 2020 from Rs. 10 crores last year at the same time. This hike in the sales of sanitizers is a clear indication of the shift in the priority of people, who are now extremely conscious about their health and hygiene.
As the lockdown began lifting in phases, the need for sanitizers at public places such as hospitals, markets, workplaces, offices, etc. has increased all the more. Not only at the entrances, but also after coming in contact with commonly touched objects, people are sanitizing their hands regularly.
The sanitizer dispensers are now an efficient and resourceful way to sanitize, rather than sticking to the traditional sanitizer bottles.
Touchless Wall-Mounted Sanitizer Dispenser vs Foot-Operated Ones Which is Better?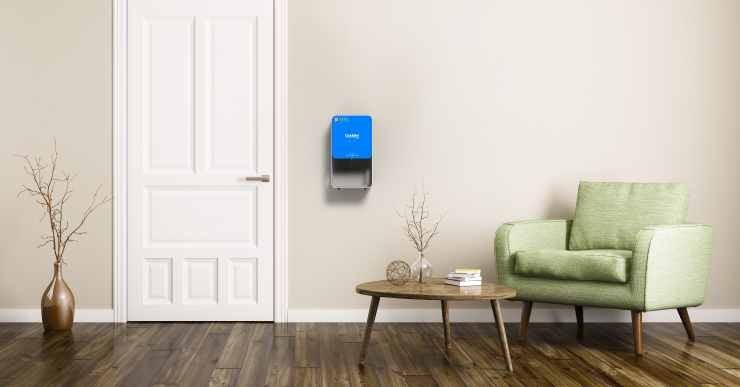 The two most common types of touchless sanitizer dispensers are wall-mounted and foot-operated dispensers. So, let's see which one fares better in comparison to the other.
Touchless Wall-Mounted Dispensers
Easy to Use and Touchless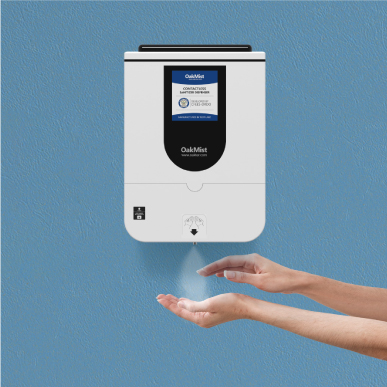 Touchless wall-mounted dispensers are extremely easy to use and come handy when anyone is in a hurry. They do not require any physical contact with the machine as they come with inbuilt sensors which can detect if a person simply keeps their hand under them, dispensing sanitizer automatically. This is the biggest advantage of such dispensers and is extremely important for the protection from various bacteria and viruses that spread from physical contact.
Oakter offers one such product, a touchless mist-based hand sanitizer dispenser unit which can be easily mounted on a wall.
The technology is completely touchless and powered by ultrasonic sensors that help in reducing human contact. The dispenser has been developed in association with the Defence Research and Development Organisation and is CE certified. OakMist Plus is a commercial variant that is already being used at airports, many private and government offices, banks, shopping malls, temples, hospitals and even at the offices of our honourable ministers. It is perfect for housing complexes as well.
No-Waste
These come pre-installed with proper specifications which helps avoid spill and wastage of sanitizer liquid. Oakmist's wall-mounted sanitizer dispensers come with an aerated mist based formula that uses only 5-6ml of sanitizer in one single operation, which is just enough for two hands to get completely sanitized at once and helps conserve sanitizer liquid from excess usage.
Smart Features
Wall-mounted dispensers possess many smart features, one of them being two display LEDs to indicate the on/off status and to indicate dispensing in progress. Another feature is the ease with which one can figure out the level of remaining sanitizer inside the dispenser through the transparent window.
Economical
These types of sanitizer dispensers are easy to refill. Once it is filled with the liquid sanitizer content, a fixed amount of sanitizer is dispensed every time, which will be enough to sanitize your hands. Since the process is automated, this reduces any chance of wastage and makes them highly economical.
Easy Installation
Most wall-mounted sanitizers come with a very easy installation process. One just needs to figure out some empty space on a wall, preferably near the entrance and fix the dispenser on the wall, fill the same with a choice of sanitizer liquid, and plug it in. It is as simple as that and therefore, quite popular.
Wide-Usage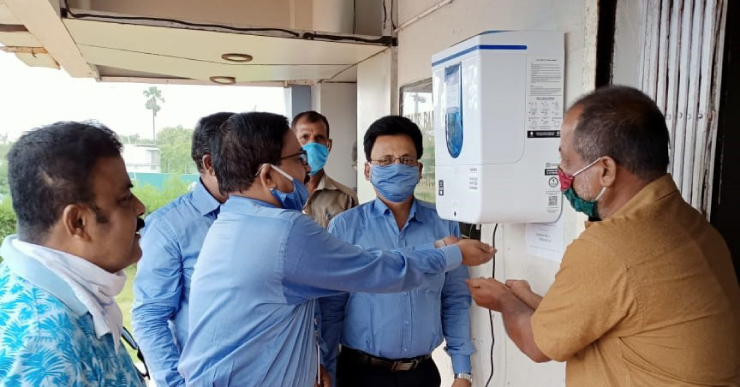 Contactless or touchless wall-mounted sanitizer dispensers can be used at a variety of locations such as hospitals, railway stations, workplaces, airports, etc, any such place that receives heavy traffic and has more chances of people contracting diseases. Compact, mini versions of these can be used at homes as well.
OakMist mini is one such compact wall-mounted hand sanitizer dispenser unit that can be easily installed at homes and has already been adopted by countless homeowners.
Foot-Operated Sanitizer Dispensers
Foot-Operated sanitizer dispensers are also easy-to-use. They work with the help of spring action. Whenever a person presses the pedal with the foot, the bottle dispenses a fixed amount of the sanitizer liquid. They come quite handy and portable as well. They are generally height-adjustable and can support multiple sizes of liquid sanitizer bottles or containers. To maintain proper personal and community hygiene and avoid cross-contamination of viruses and other infections, foot-operated sanitizer dispensers are a great tool to sanitize your hands without having to touch the dispenser every time.
Wall Mounted Sanitizer Dispenser or Foot Operated Sanitizer Dispenser – Which to Pick?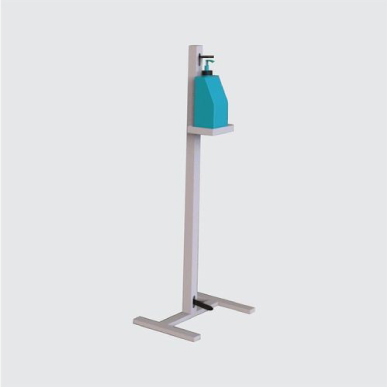 While the market has shown acceptance towards both types of sanitizer dispensers, wall-mounted sanitizer dispensers do present a better option. Here are a few arguments in favour of the same:
Stability
Foot-operated dispensers will require a stable stand, which when pressed with the foot, does not move or shake, unlike wall-mounted dispensers which just need to be fixed once and for all.
Appealing Design
Wall-mounted dispensers look quite appealing with good designs that complement the room's interior. Foot-operated dispensers are at quite a nascent stage, which come with a basic stand and design.
Portability
Foot-operated dispenser stands are portable, which although an advantage, can still prove to be a pain point as it can get stolen from outside of the establishments. Wall-mounted dispensers do not pose any such issue due to their fixed installation on the walls.
So, when it comes to choosing a sanitizer dispenser for your office, institution, or home, make sure that you consider all these factors and make an informed choice that suits your needs.