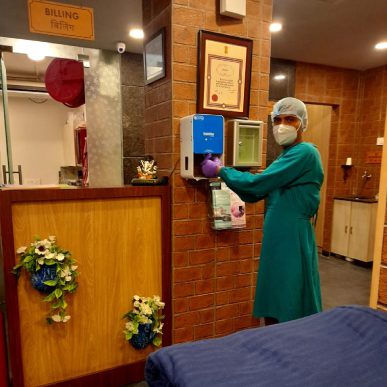 Role of Automatic Hand Sanitizer Dispenser in Fighting COVID-19 in India
A densely populated country like India has its own set of challenges to deal with. Add to that the dire threat of COVID-19. The demographics, socio-economic conditions are different in every state of the country. So, no blanket solution can work here.
India needs micromanagement at every level. As the second wave of Coronavirus is already subsiding, India needs to get the ball of the economy rolling. A tool like an automatic hand sanitizer dispenser will be crucial in its fight against potential covid threats. From commercial establishments, offices, sports complexes to entertainment arenas, these automatic hand sanitizer dispensers have applicability everywhere.
How Automatic Hand Sanitizer Dispenser Can Help India's Cause To Fight COVID-19
Most commercial establishments and offices are planning to have employees back to the workplace. Manufacturing units are gearing up to start operations again. Schools and colleges are ready to welcome students back to the campuses. But this time, the challenge is more significant.
Establishments will now have to address two issues — first, the hesitancy and the fear of another catastrophe like the second wave of Coronavirus. And then, the most important, assurance of safety.
All the establishments have to do this confidence-building exercise. When the risk is as high as in this case, people want a foolproof mechanism. Employees, workers, students, and even guests in the hospitality industry need to feel comfortable. It's the only way their respective institutions and organisations can have them back. The solutions are simple. A machine like an automatic hand sanitizer dispenser could be a great instrument to keep COVID-19 in check once things open again. Not only that, it can help India be back on the path of high growth.
Let's see how an automatic hand sanitizer dispenser can play an instrumental role in India's response to COVID-19 after the second covid wave.
1. No-Touch Sanitisation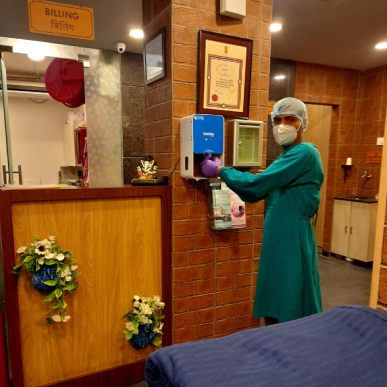 It's now well established that the COVID-19 virus spreads through micro particles called aerosols. That means the margin of error is minimal, as you can pick up the virus from anywhere. The automatic hand sanitizer dispensers use motion sensors to facilitate "no-touch" hand sanitization.
These dispensers do not have any physical button, which can otherwise become a potential medium of virus transmission. Also, the automatic motion sensors allow you to take the only desired amount of liquid. That ensures maximum utilisation of sanitizing liquid by preventing wastage.
2. Easy Refilling and Storage 
Most of the automatic hand sanitizer dispensers can take any sanitizer liquid available in the market. Also, their storage capacity is outstanding. They can store up to 10 litres of sanitizing fluid. With 10 litres of liquid sanitizer, you get about 8000 sanitizing sprays. That means there is hardly any need for daily management.
For places that do not have high footfall, there are smaller options also available. An automatic hand sanitizer dispenser with 5L capacity can offer about 4000 sanitizing sprays, which is quite good itself.
3. Low Power Consumption and Potential Use
The automatic hand sanitizer dispensers run on electricity; they take minimal power. Almost all of them come with a 12V power adapter; it's an indicator that power consumption is not even an issue.
In India, there are places where an uninterrupted power supply is still in the pipeline. It's good news for the establishments running in those places as well. They can run these machines on battery-run power inverters.
Even when the threat of COVID-19 is entirely out of sight, these machines are not going to be obsolete. The automatic hand sanitizer dispensers offer an excellent opportunity to all commercial and non-commercial establishments to have an organised, hygienic practice in place.
It's a low-cost solution, but the value it provides is far greater than the cost that goes into automatic hand sanitizer dispensers and the liquid.
4. Counter-mechanism To Lazy Skips
We Indians inherently are not very organised people. We tend to look for easy passes. We have a precedent that tells us once things ease-out, people start taking things casually. It becomes challenging to get everyone in a space to keep following the same hand sanitization behaviour. And it's impossible if you ask them to do it manually.
That's when automatic hand sanitizer dispensers can be a perfect counter mechanism to lazy skips. The motion sensors make them very easy to use. It'll push even those people who keep looking for substitutes for hand washes.
Top Automatic Hand Sanitizer Dispenser From Made in India Brand Oakter
Oakter is one of the leading electronics brands in India. It produces world-class smart appliances with IoT integration.
They developed all their automatic hand sanitizer dispensers in partnership with India's top defence research and development institution, DRDO. Oakter offers three models catering to varying market needs.
OakMist Plus
The OakMist Plus is the most premium product in its range. It has a holding capacity of 10L that translates to about 10,000 sanitizing sprays.
It's an excellent product for spaces with high footfalls. Even the central ministries like defence and finance chose to go with it for their office compounds.
Notable features: ABS body, Ultrasonic sensor, purely contactless mist spray, App Integration
OakMist 5L
The OakMist 5L is a mid-range automatic hand sanitizer dispenser. It has a 5L storage tank that Offers about 5000 sanitizing sprays.
OakMist 5L is a perfect choice for mid-size office spaces, classrooms, and waiting halls.
Notable features: Compact, lightweight steel body, HDPE tank, wall mount support, App integration
OakMist Mini
The OakMist Mini has almost all the features that OakMist Plus has; the significant difference is its storage. It has a smaller storage tank. With a 1.2 L storage capacity, the dispenser offers about 1000 sanitizing sprays. The product could be an excellent choice for residential spaces, apartments, and small offices.
Notable features: Aluminium body, support tabletop setup, Ultrasonic sensor, Virtual Assistant integration
Oakter did manage to offer cost-effective automatic hand sanitizer dispensers that promote quality no-touch sanitization. The dispensers make hand sanitization fun, easy to accommodate in any space. The products are durable and have long-term potential. Their deployment can be the X factor for India's response to potential covid challenges.