Why You Still Need An Automatic Sanitizer Dispenser in Your Home & Office
COVID-19 is not a thing of the past as many would like to believe. The second wave has already begun in India and we must be very careful. And a pillar of the safety precautions against the coronavirus is sanitizer dispensers.
But do you feel carrying sanitizer bottles is inconvenient all the time? That's why automatic sanitizer dispensers have been installed in almost all public places. But that's not all. You need these automatic machines in your office and home as well. Let's understand why.
Why do you need an automatic sanitizer dispenser? 
An automatic sanitizer dispenser is an infrared motion-sensor-based dispenser and as you place your hands under the machine, it automatically releases sanitizer in the form of mist or spray.
Automatic sanitizer dispensers are mostly used in spaces where there is an urgency or critical need for it. In spaces like hospitals where there are many infected patients, it becomes necessary to have easy access to easy and speedy hand sanitization. The same goes for railway or metro stations, restaurants, and other public spaces. With the automatic dispenser, the process gets much simpler and protective.
Workplace & Sanitizers
From sitting at your desk to touching the laptop or your notebook, employees engage in many activities at work which may expose them to the virus. With the resurgence of the coronavirus, it's necessary to install automatic sanitizer dispensers.
Before 2020, people would enter or leave meeting rooms as a big group without paying too much attention to washing or sanitizing their hands. Now, it's not only a matter of precaution but also a habit to stay extra cautious about their hygiene at work.
Employees look for sanitizers when they use someone else's pen or when they enter or leave different rooms. Most importantly, when it comes to enjoying their lunch in peace they ensure to use a sanitizer. In the past, some people would often eat and work as well but now it's wise not to touch anything else while consuming food.
When it comes to workplaces and sanitization, you really can't put a price on safety. Employees expect their office to provide a good level of hygienic safety, especially in times of a pandemic, and even one sick person can make the entire office fall sick if the safety measures are not in place.
Home & Sanitization
There have been so many cases where one person in a family test positive for COVID-19 and the next thing you know everyone's report says the same. Your home is the most sacred place where you feel most safe from the pandemic and germs/bacteria. One reason why you may feel so is the level of trust you have for it.
However, as far as families go, people are now at a place where they sometimes have visits from their relatives or neighbors. In such situations, having an automatic sanitization dispenser may seem comforting to the guest. Also, since it will be a new addition to your home, you can always encourage your guests to try it out.
Let's face the fact that COVID-19 isn't going anywhere anytime soon and everyone needs to take the necessary measures. Installing sanitizer dispensers at home will cater to the guests and also help you during the collection of online packages.
The delivery man who brings you the package may have touched the same wrapping that you would also have to. In such situations, it's a good idea to have easy access to a sanitizer right at the doorway. Before touching anything in your home, you can clean your hands immediately with the dispenser.
Remember that your home only feels safe to you when you keep it surrounded by the necessary means to protect yourself.
Now, let's understand in detail why people still need automatic sanitization dispensers at home or in the office & what are the advantages –
1. Touchless
Being touchless means there's no need to push a button and these dispensers eliminate the possibility of any kind of contact with any other person who may have used it earlier. This is quite beneficial to avoid cross-contamination at workplaces and at home whenever you're in a rush.
2. Installation
These are easy to install and many companies provide you with installation support too. There are useful self-help videos available as well. All you need to do is fix the dispenser on the wall or place it on a table and connect it to a power supply. Pour in the alcohol-based sanitizer and you are all set to go. It's a one-time investment that goes a long way to keep you safe.
3. Pre-determined and equal dispense of sanitizer 
The standard amount of dosage provided through the mist spray or automatic liquid sanitizer is enough to clean both of your hands. This reduces any kind of wastage and is cost-effective.
4. Modern Appearance
When it comes to an automatic sanitizer dispenser, it not only reassures the employees but also the clients about safety measures being taken seriously. At home, whenever guests arrive they would be encouraged to use it and the sleek modern appearance will feel like sanitization is being taken more seriously at your place.
5. Increased Awareness
Automatic dispensers create a positive attitude towards hygiene and help spread awareness about the same. With its ability to make it easy for people to use it, it brings people positive affirmation and encouragement to maintain their hygiene. Sanitizer bottles give a precautionary vibe due to the rapid COVID-19 spread in 2020.
Trust and reassurance are some of the important reasons why you need automatic hand sanitizer dispensers. You will feel safe or comfortable at work, where you can expect every precautionary measure to be taken to protect you. At the same time, keep your home safe from disease-causing viruses and other germs. Install an automatic sanitizer dispenser and stay safe, stay healthy.
OakMist – The Compact Automatic Sanitizer Dispenser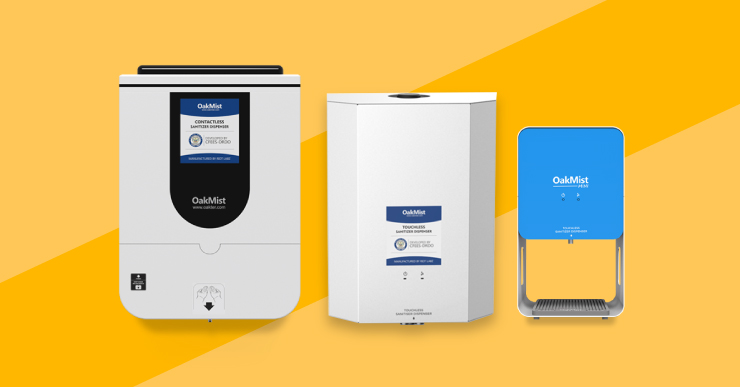 OakMist is a completely touchless hand sanitizer dispenser approved by the Defense Research and Development Organization (DRDO) of India, which offers a best-in-class product that serves as an excellent sanitization tool for homes.
The OakMist automatic hand sanitizer dispenser comes in three variants to suit different locations and requirements.
Below listed are some of its brilliant features:
Completely touchless
Cost-effective
Easy to install
Made in India product
Sturdy body
Good after-sale service
User-friendly robust design
Ideal for busy areas as well as less densely populated spaces, based on variants available
Comes with a manufacturing warranty for one year.