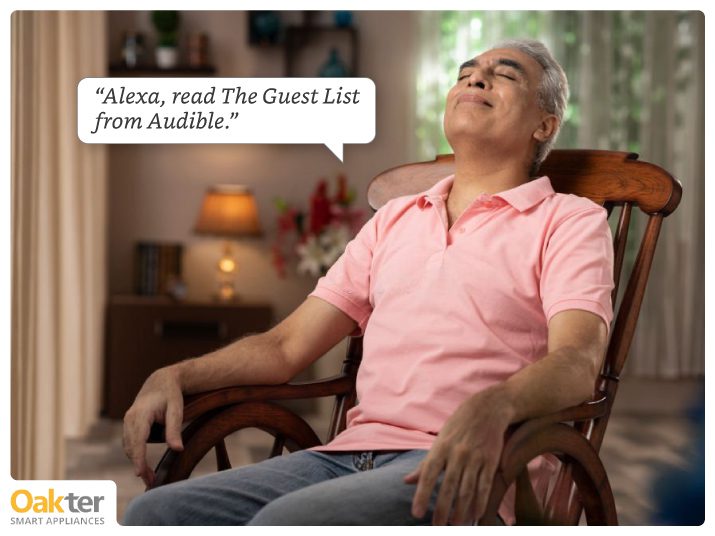 Why Is Voice Remote Essential for Senior Citizens at Home
Older generations are just not comfortable with technology.
That's been the conventional wisdom for years, particularly since the onset of the smart era when smart devices became a crucial part of everyday life. Senior citizens often see slick handheld devices as too expensive or complicated to use.
But innovations such as voice-first technology can make a huge difference. Smart speakers, voice remote controls, etc., can help older people age in peace and avoid social isolation.
This article will uncover the use cases, benefits, and future scope of voice remote technologies for senior citizens at home.
What are Voice Remote Devices?
A voice remote device is exactly what it sounds like. It is most commonly a phone or a speaker that you can control with your voice. You can ask questions to the device, command it to complete desired tasks, and so on.
How Does Voice-First Technology Help? — A Social Project By Front Porch Center
David park, the executive director of Front Porch Center for innovation and well-being, oversaw a pilot project in 2017. The project took place at Carlsbad by the Sea retirement community near San Diego. The project saw a huge difference in how voice-activated devices helped older adults.
They introduced a group of residents to Alexa and observed how the use of the device evolved. The research involved about 50 residents, with most of them older than 80 years.
The results:
1. 75% of the users used smart devices daily.
2. Many found Alexa to be more helpful in connecting them to their family, friends and community.
Once the participants understood the device, they started exploring other ways to interact with it. For instance, they would listen to audiobooks, get medication reminders, etc.
The point is — voice remote technology works for senior citizens!
Voice Remote Control For Senior Citizens: Use-Cases And Importance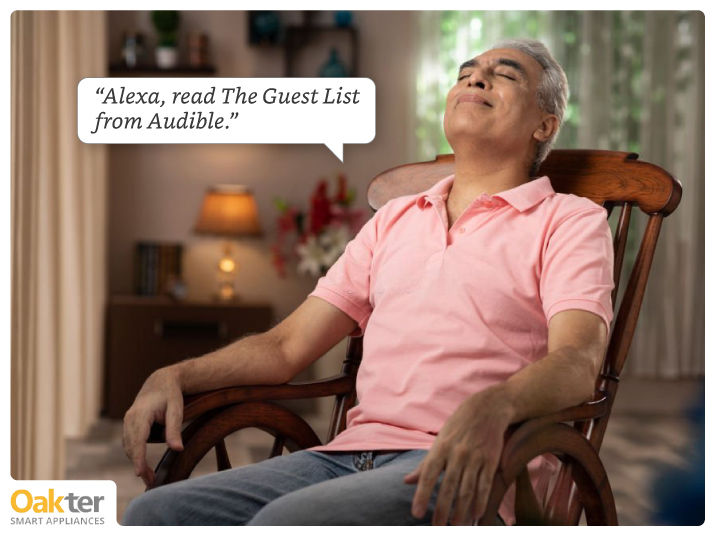 For many senior citizens, voice remote technology can prolong their independence. Voice remote devices can make their day-to-day life easy by performing manual tasks by simply using their voices. Here are some use-cases of the same:
1. Senior citizens can command the devices to call a relative, read emails, find recipes and narrate those recipes.
2. They can order a taxi or food from a favourite restaurant, read audiobooks, add items to their shopping lists, and so on.
3. It is especially beneficial for older people with visual impairments. Voice remote control can help them perform everyday tasks without much hassle.
4. Voice remote control devices can play music, control CCTV, look for information on the internet, routine, can help with basic home automation tasks, etc.
5. Voice remote devices can help senior citizens automate their medicine reminders.
6. In the morning, voice remote devices can help with daily weather updates. You can also automate the temperature changes with voice commands.
7. Voice remote technology is also a massive advantage for people in a wheelchair or people who cannot use their hands. For instance, someone with Parkinson's.
The Benefits of Voice Technology in Senior Living
We saw the day-to-day use cases of voice remote technology for senior citizens at home. But its importance goes beyond improving health and happiness. Apart from aiding residents with limited mobility, voice remote technologies offer many benefits:
1. Achieve Tasks Without More Risk
Voice remote technologies help senior citizens with physical impairments. They can efficiently perform tasks like turning on/off lights or adjusting the temperature.
2. Increase Information Accuracy and Efficiency
Voice remote controls can help reduce the number of simple informational queries like:
1. What does the weather look like?
2. What is on the dining menu?
3. Staves Off Isolation
After the COVID-19 pandemic, we all know what social distancing and isolation feel like. Voice remote technologies can help senior citizens with all the interactions they can get. Voice remote assistants can understand people's preferences and provide meaningful responses.
What to Look for In Voice Remote Technology
Voice remote technologies are becoming popular among senior citizens due to their seamless use cases. In the future, when baby boomers turn into senior citizens, this technology will give them a significant competitive edge.
The voice remote products available in the market currently (like Siri, Alexa, Cortana, etc.) have limited functionalities. They are only able to control smart technologies with built-in integrations. Besides, these devices are not designed up to their full potential for senior citizens.
Voice remote devices do not naturally integrate with legacy systems. They are limited to specific products such as iPhone, Amazon Echo, and similar third-party applications. Thus when you're looking for voice remote technology:
1. Make sure that it is programmed specifically for senior citizens and is a fit for senior living communities.
2. Identify specific use cases and see if they cover the primary use cases needed for senior living.
3. Ensure that you pick a voice remote technology that easily integrates with your mobile devices and applications.
Many stakeholders use the Amazon Lex platform to build voice remote systems.
It is a cloud-based automatic speech recognition (ASR) and natural language understanding platform. You can use it with other cloud services to build smart assistants designed for specific tasks or use cases. The virtual assistant software enables these devices to understand human language. It also provides more dynamic ways of interacting.
Build Voice Remote Control With Oakter
Digital assistants have been a boom since their inception in late 2014. According to AARP, 29% of adults aged 50 and above have adopted digital assistants. Their research shows that voice remote technology will only grow among seniors.
All you need is a technology partner who understands the crucial pain points of senior living and builds niche solutions for senior citizens.
If you are looking for someone who can help you make this, you might want to look at Oakter. We specialize in developing innovative automation products and white-label solutions.Connect with us to learn more about voice remote control technology, its facts and fallacies, and how they can be helpful to senior citizens.