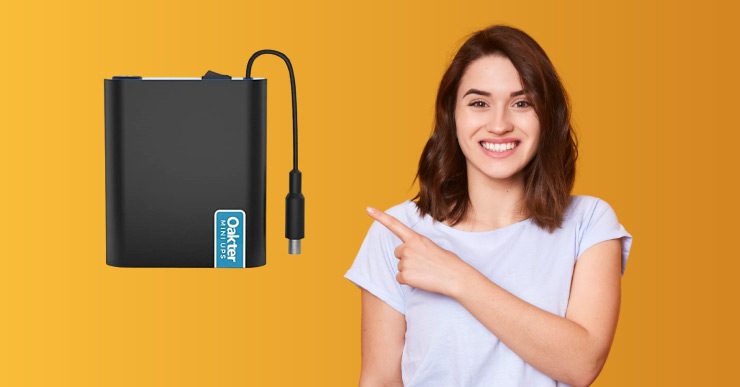 12 Reasons Why Oakter MiniUPS Is the Best UPS for Your WiFi Router
97% of employees prefer to work from home (WFH). WFH has increased productivity, employee satisfaction and a better employee-employer relationship. All you seem to require is a reliable WiFi connection, and you feel ready to overcome any professional hurdle.
On paper, it is all hunky-dory as both the companies and employees seem to approve of the new normal. However, there seems to be only one roadblock – power outages.
Power outages not only prove to be a hindrance while working, but they also cause damage to your electrical equipment, including your WiFi router. We offer you a solution: MiniUPS for your WiFi router to keep working seamlessly even during a power failure.
What Is a MiniUPS and What Are Its Benefits?
A MiniUPS for your router is a power backup unit that you can connect to your WiFi and Modem, and the WiFi will operate on battery power in the event of a power outage. This can be used as a WiFi power backup. A MiniUPS also protects your WIFI router in the case of a short circuit. Furthermore, there are various advantages to purchasing a router UPS.
The benefits of purchasing a MiniUPS for your router are:
1. Imagine that you are rushing to meet a professional deadline and have poured in long hours of your time on a project. Suddenly, you are surrounded by darkness as you have been hit by a power cut.
We are pretty sure that this experience is not just restricted to your imagination, as you would have faced this situation in your real life. With a MiniUPS, if you experience a power outage, you will still have access to the internet, even if the rest of your house is without power.
2. Short circuits can be safely accused for the premature demise of several electrical gadgets. MiniUPS' components are designed to safeguard the Wifi router from any short circuit caused by a power outage or a high voltage condition because it is a dedicated device for your UPS.
3. The use of a MiniUPS is not just restricted to your WiFi router. This device can also be used to charge your smartphone or supply electricity to any other outlet that requires it.
Why Is the Oakter MiniUPS the Best for Your WiFi Router?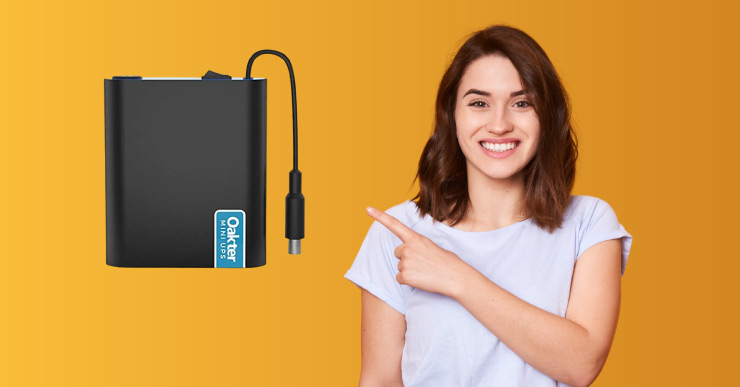 Considering that there are quite a few options to choose from, it can be a headache to choose the right option. Picking the right MiniUPS is not a problem you would want to take on given that you are already burdened with other professional and personal commitments. To make your job easier, we present to you: Oakter MiniUPS.
We are not making any false claims, as we present to you the reasons:
1. Smart Charging:
Long charging hours can often inflict damage on your electrical products. However, MiniUPS has a clever battery management system that charges the battery automatically when the power is turned on. You can keep working without any worries as you are not required to keep a constant eye on your MiniUPS while it is getting charged.
2. Easy to Set Up:
Setting up products with wires can prove to be a tiresome task. Our team has ensured that the Oakter MiniUPS can be set up for your device in under 30 seconds. For Wi-Fi Routers, Set-top Boxes, and CCTV, it is just plugged and play.
To connect Oakter MiniUPS to your router, all you have to do is:
Plug in the Oakter MiniUPS pin into your WiFi router.
Plug in the WiFi adapter into your Oakter MiniUPS.
Switch on the Oakter MiniUPS and you are good to go.
So, just plug it in and start working.
3. Power Back-Up: Are you prone to experiencing power outages for long hours?
The Oakter MiniUPS provides you backup time that can last up to 4 hours. Keep in mind that it also depends on the router's current consumption.
4. Pre-Recharged:
Electrical products test our patience as we need to wait before we use them while they get charged. The Oakter MiniUPS arrives pre-charged and ready to use right out of the box. So, you are good to go as soon as it arrives.
5. Protection from Unstable Power Surge:
Our electrical gadgets have often fallen prey to power surges and have only added to our bills and woes. After a busy day of work, you can sleep peacefully at night as Oakter MiniUPS will shield your WiFi router from any fluctuation in power.
6. Deep Discharge Battery Protection:
The Oakter MiniUPS has been built with cutting-edge technology that protects batteries from overcharging and undercharging, while also increasing their efficiency.
7. Same Speed:
By connecting Oakter MiniUPS to your WiFi speed will not cause any form of lag in your internet connection.
8. 3 Days Return Policy:
If you find that the delivered product has some flaws or does not meet your expectations, you can apply to return it within 3 days of the date of purchase.
9. Warranty:
Oakter MiniUPS comes with a year-long warranty. In case, our product needs any repair, we will do it for you free of cost within the aforementioned time period.
10. Variants:
You are spoiled for choice as Oakter MiniUPS has two variants of its own: 12V and 9V. You can choose the best option out of the two to suit your WiFi router.
11. Value for Money:
Oakter MiniUPS' pricing is quite affordable and reasonable even though it is loaded with quality and the plethora of features the product possesses.
12. It Can be Used for Other Devices:
Oakter MiniUPS' use is not restricted to WiFi routers. You can also plug in your smartphones, CCTV cameras, Set-Top boxes, etc. to use them.

To enjoy a seamless and unrestricted experience while accessing the internet, click here to purchase Oakter MiniUPS.