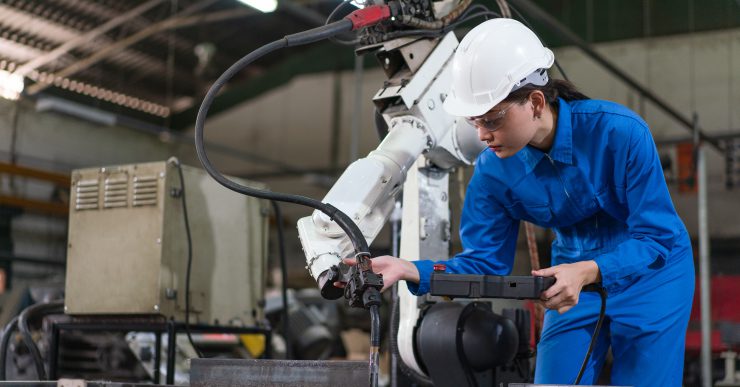 6 Reasons Why You Should Hire Third Party AI for Manufacturing Business
Artificial Intelligence (AI) has come a long way, from killer robots in sci-fi fantasy to intelligent homes and business automation. With the Internet of Things (IoT) devices slowly dominating our lives, the IoT market is expected to grow to USD 650.5 billion by 2026. Small business owners are a part of this, too, thanks to 3rd party manufacturing.
Besides smart devices, AI has many applications, including manufacturing. But AI in manufacturing is not limited to using robots to perform complex tasks and automate specific processes. This article will discuss how AI is used for manufacturing and why you should hire a third-party AI for your business.
What Is AI In Manufacturing?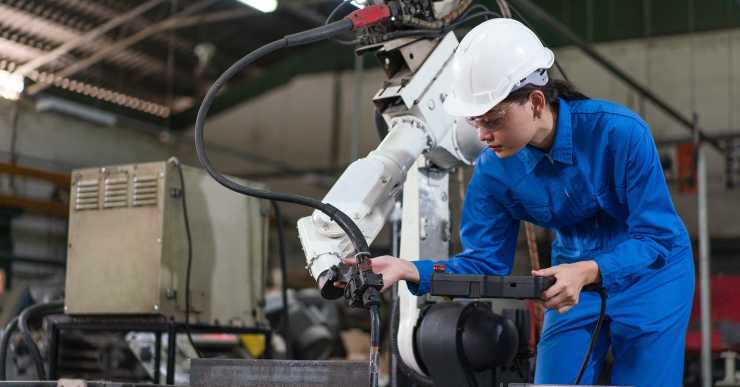 Any manufacturing plant generates large amounts of data daily. Artificial Intelligence in manufacturing involves using machine learning algorithms and deep learning neural networks to optimise various manufacturing processes and maximise overall efficiency.
With AI, you can automate complex tasks, identify patterns in processes and workflows, predict machine failure, improve demand forecasting, reduce waste of raw materials and so on. Apart from manufacturing, you can also forecast sales, manage the supply chain, and monitor your KPIs (Key Performance Indicators) in real-time. Here are a few examples of companies that successfully leveraged AI in manufacturing:
1. BMW, the popular automobile manufacturer, uses image recognition for quality checks, inspections, and to pinpoint deviations from standards in the production line by evaluating the components' images.
2. Caterpillar, a leading machinery manufacturer, saves up to $400,00 per ship per year thanks to AI. Their marine division uses big data to determine the frequency of cleaning the hulls and maximise their efficiency.
3. Danone Group, a French food manufacturer, uses machine learning models to improve coordination across departments like supply chain, sales and marketing, leading to a 30% reduction in lost sales and a 20% reduction in forecasting errors.
You can implement and utilise the power of artificial intelligence even with 3rd party manufacturing.
Why Hire Third Party AI For Manufacturing Business
Although you can develop an AI from scratch, hiring a third-party AI will save time, money and resources. Hiring a development team and acquiring the resources won't pull you away from your business. Learn more about why you need to consider 3rd party manufacturing.
Let's see the various advantages of hiring a 3rd party AI.
1. Product Optimisation
AI plays a more significant role in product design and can further optimise it to increase efficiency. Generative design tools help to define the problem and explore different combinations for a single product. You need to input parameters like the raw materials, size, weight, manufacturing methods, cost, constraints and resources.
You can also predict the final product's behaviour and performance before going ahead with the production, saving a lot of time and money that goes into trial and error. Even after manufacturing a product, you can use machine learning algorithms to identify improvement areas and provide real-time recommendations.
2. Quality Assurance
One of the most prominent uses of AI in manufacturing is quality assurance. The use of machines and automation help reduce errors for sure but don't eliminate them. You can use machine learning models to detect deviations in design specifications and identify discrepancies. AI tools report inconsistencies in real-time during production so that you can immediately address the issues.
Computer Vision tools use high-resolution cameras to monitor every aspect of manufacturing and every part of each product. It flags defects and triggers corrective measures, minimising product recalls and wastage. This saves time, raw materials, labour and costs.
3. Predictive Maintenance
Artificial intelligence models predict when machines may fail. You can schedule repairs and maintenance or replacement parts in advance, preventing shutting down machines or production lines for days or weeks, which may disrupt the supply chain. AI's predictive maintenance prevents losses due to unexpected machine failures.
4. Enhanced Monitoring
AI provides 360-degree visibility across your manufacturing plants and warehouses. You can monitor your manufacturing operations in real-time and identify inefficiencies and bottlenecks. Thanks to real-time data and insights, you can make quick but informed decisions like revising production plans, adjusting the material flow, etc. AI can detect malfunctions and other problems that need to be rectified immediately. Most importantly, once the AI systems are set up, they require no continuous human input except occasional interference. This saves time which can be utilised for other business activities.
5. Demand And Inventory Forecasting
The biggest challenge of any manufacturing business is keeping up with the market's ever-changing demand and producing goods accordingly. While overstocking leads to wastages and lower margins, understocking leads to losses in customers, sales and revenue. AI collects and analyses data from business activities, sales, industry, and factory output to forecast demand accurately. Then you can better manage your inventory and supply chain.
6. Cost Reduction
All the benefits mentioned above directly or indirectly reduce costs. Predictive analysis allows AI to predict the resources required for manufacturing goods according to expected sales and ensures that you don't overproduce and waste raw materials. Also, with predictive maintenance, you can reduce unplanned equipment downtime, thereby reducing maintenance costs significantly.
Consider 3rd Party Manufacturing
Like many fields, AI will also impact the manufacturing industry and is not just limited to automation. Contrary to popular belief, it doesn't take away jobs but enhances people's work, thereby increasing their efficiency. AI is the future of manufacturing that is going to evolve in various ways unlocking the potential for business growth.
If you are looking for a 3rd party manufacturing partner, Oatker is the best option for you, especially if you are in the Internet of Things and smart devices domain.