Worried About Power Outages? Here's How Mini UPS Can Solve Your Woes
Regardless of a city or village, power outages can happen anytime. It could be a major issue for both people and businesses. Can a Mini UPS be a saviour in the wake of such uncertainty?
Imagine you have an interview scheduled with an organisation, and a power outage struck in the middle of it. As a result, your WiFi is down, and your interview is interrupted.
An HR professional recently posted a similar situation on a social networking site. He concluded that when the interview resumed after power was back, the candidate was so distressed that he couldn't perform well and ended up getting rejected.
Power outages at odd hours are not uncommon in India. That's why we must be prepared to ensure critical tasks are not disrupted. An Oakter Mini UPS, for instance, can connect to WIFI routers and broadband modems to provide uninterrupted power backup without lag during power outages.
What is a Mini UPS?
A Mini UPS is a portable Uninterrupted Power Supply system that you can connect with your WiFi router or modem. It provides a continuous power supply during power outages or improper voltage spikes to the WiFi router. Think of it as a power backup for WiFi to get a seamless internet connection. Know more about Oakter Mini UPS
Who is it for? Why should you use it?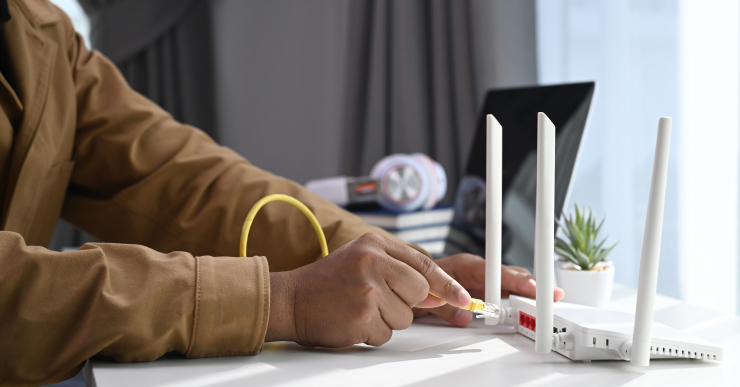 Have you noticed that every device that connects you to the internet comes with a battery backup? For example, mobile phones, tablets, smartwatches, etc. But there is no backup for WiFi routers which is the primary source of internet connection at homes and offices.
MiniUPS is designed to do just that. It has a smart battery management system that automatically charges the battery when the power is ON.
All you have to do is plug into the WiFi router and switch it on. It can supply backup for up to 4 to 8 hours, depending on the consumption.
Smart homes, students, WFH professionals, and small businesses use UPS for uninterrupted internet connection with WiFi routers and broadband modems.
Some impressive features of Mini UPS
Uninterrupted internet with absolutely zero delays is not a fantasy but a reality. The Oakter Mini UPS is a smart gadget you can have to save you from frequent unexpected power outages.
Smarter Charging: With a 2000mAh rechargeable battery that recharges itself when connected to electricity, the mini UPS boasts sophisticated battery management. In the event of a power loss, switching between two paths is no longer necessary.
Easy Set-Up: Plug the output pin of Mini UPS into the WiFi router and the WiFi adapter pin into the Mini UPS. Switch the device on and you're good to go.
Light-weighted: It's small-sized and lightweight.
Pre-Recharged: This portable UPS comes with a pre-charged battery backup. So you can use it immediately out of the box.
12V up to 3A: It provides an uninterrupted power supply for the devices with an output voltage of 12v up to 3A.
Deep discharge protection: Do not worry about overcharging and undercharging. It comes with deep discharge protection to ensure efficiency.
Low maintenance: It doesn't require any specific maintenance process.
Surge Protection: It includes protection that prevents damage to connected routers and modems during a sudden power failure or inappropriate voltage.
Cost-effective: It is a smart purchase for the long term and doesn't burn a hole in your pocket.
Application areas of Mini UPS
Although compact in size, it is a powerful device that is constantly at your service during frequent power outages or power failures. They have varied applications from home to enterprises.
1. Prevents the loss of data
If you work on platforms like GoogleDocs or Spreadsheet, you may run a risk of losing unsaved data during power outages. In such cases, a Mini UPS is an ideal solution that keeps you connected with stable internet.
2. Improve the experience of WFH professionals
Post COVID-19, many people have started working from home. Companies can provide Mini UPS to their remote employees for a better work experience. It can increase their productivity and make their work process seamless with no hassles during power outages.
3. Set up a perfect home office
The home office setup is incomplete without a Mini UPS. A steady power supply with a good internet connection boosts productivity and positively impacts the employees. With frequent power outages, one may lose focus on their task, experience difficulty while attending meetings, or face other similar issues.
4. Uninterrupted online classes and video calls
Due to the unpredictability of COVID rules, many schools and universities continue to educate their students through online classes. As a result, a mini UPS could be the ideal choice allowing students to listen to lectures without interruption during power outages.
5. As a backup power source for smaller devices other than wifi routers
The use of wifi router UPS is not restricted to routers and modems. Smaller electronic devices, such as Bluetooth gadgets, CCTV, set-top boxes, and biometric systems, can also be linked for continuous power supply. Before connecting, ensure that the targeted device's power rating is compatible.
6. Smart Homes
It is very useful for households with CCTV cameras. Unfortunately, CCTV is futile if something unforeseen occurs during a power outage. However, the CCTV can capture data without interruption if it is connected to a power backup.
7. Small Businesses
People with online small businesses can use MiniUPS for seamless internet connection and to ensure a continuous work process.
Final Thoughts
From the onset of COVID-19, home offices and online classes have become prevalent. This often demands a seamless internet connection during important meetings, lectures, and video conferences. With Mini UPS, you can get absolute freedom from the interrupted internet connection.
Enjoy Uninterrupted Power Backup for Wifi; click here to purchase Oakter MiniUPS.