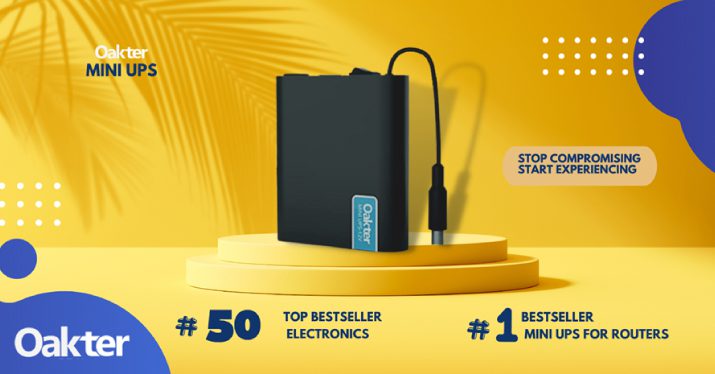 Which Mini UPS Router Is Best for a Continuous Internet Connection?
Remote working is officially the new normal. And this new norm comes with the prerequisite of seamless internet connectivity. When one contemplates it, the fact that WiFi routers don't come with a power backup seems unimaginable.
That's when a mini UPS router comes into the picture. With power cuts becoming a prevalent problem in several parts of the country, having a power backup for your WiFi router, like Oakter MiniUPS, has become necessary.
This article will examine Oakter MiniUPS and what makes it a cut above the rest.
Oakter Mini UPS for WiFi Router – Features at a Glance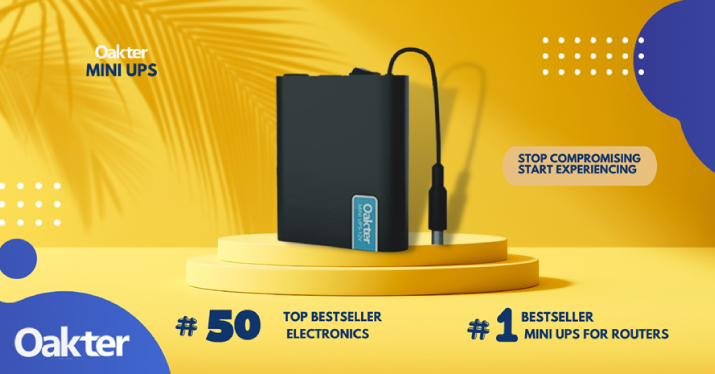 1. Up to 4 Hours of Power Backup
The Oakter MiniUPS is an uninterruptible power supply that can give you up to 4 hours of battery backup in the event of a power outage. This means you can continue accessing the internet for up to 4 hours after the power has gone off.
2. Current and Surge Protection
MiniUPS' smart battery backup system also protects against power surges, which could cause damage to your equipment, be it your WiFi, set-top box, or CCTV.
3. Smart Charging
The smart charging feature allows the battery backup system to monitor its charging process, ensuring that it does not overcharge itself or run out of power before you need it again.
4. Plug and Play
You only need to plug the unit into a wall socket and flip the switch to start working — there's no lengthy installation process. Just plug in the device, and you're good to go!
5. Deep Discharge Protection
Suppose power fails while devices are still plugged in but turned off. In that case, Deep Discharge Protection automatically turns these devices back on without damaging them so they can continue operating once power returns.
6. It Comes Pre-recharged
This one is self-explanatory. There's no need for a first-time charge as Oakter MiniUPS comes pre-recharged, ready to use right out of the box.
What Keeps MiniUPS One Step Ahead of Its Competitors?
All power backup solutions for WiFi routers serve the same purpose – they provide an uninterrupted internet connection during power failure.
These devices can connect to both your WiFi router and modem. In the event of a power outage, your router will run on battery power. Moreover, a mini UPS can also protect your router from power fluctuations.
So what makes Oakter MiniUPS a better value for money?
1. No-Fuss 30-second Setup
Setting up your Oakter MiniUPS is quick, easy, and hassle-free. You plug the unit into a power outlet of your choice, and the LED indicator will indicate an adequate power supply.
2. Available in Both 9v and 12v Options
The power rating is one of the most important aspects when purchasing a mini UPS for a WiFi router. Most WiFi routers have an output voltage rating of either 9v or 12v. However, most contemporary mini UPS models are only designed for 12v DC routers. Here's the scary part, using a 12v mini UPS on a 9v router can burn the circuit of your router.
Oakter MiniUPS comes in 9v and 12v options to find the right power backup option for your particular router model. It supports 9v DC and 12v DC routers of all major brands like D-Link, TP-Link, Airtel, Jio Fiber, etc.
This article discusses how to avoid buying the wrong WiFi router UPS. 
3. Intelligent Battery Management System
The intelligent battery management system of the Oakter MiniUPS ensures that your device gets the right amount of power at all times. It prevents overcharging or undercharging them, potentially damaging their batteries permanently and wasting their resources unnecessarily.
Additionally, it also ensures that your MiniUPS never runs out of power by charging the battery automatically the moment the power is back.
4. Its Applications Aren't Limited to Routers
We know it has "for WiFi routers" in the description, but Oakter MiniUPS can do more. It can power up small devices such as smartphones, Set-top boxes, Bluetooth devices, CCTV cameras and biometric systems.
However, you will need to purchase an additional cable for each device separately. And you should not forget to check the power rating compatibility of any device you intend to connect with the MiniUPS.
5. 3-Day Return Policy
If you are unsatisfied with your purchase or find any defects in the product, you can return it within three days of receiving it, no questions asked!
Closing Remarks
Suppose you're looking for a portable, powerful, yet highly affordable Mini UPS  for your router for uninterrupted internet connectivity during power cuts. In that case, Oakter MiniUPS is where your search ends. 
So place your order with Oakter right away. Oakter products are also available on Amazon and Flipkart. Besides smart home appliances, Oakter has a smart universal remote controller and smart WiFi plugs for your convenience. Contact us for more details!