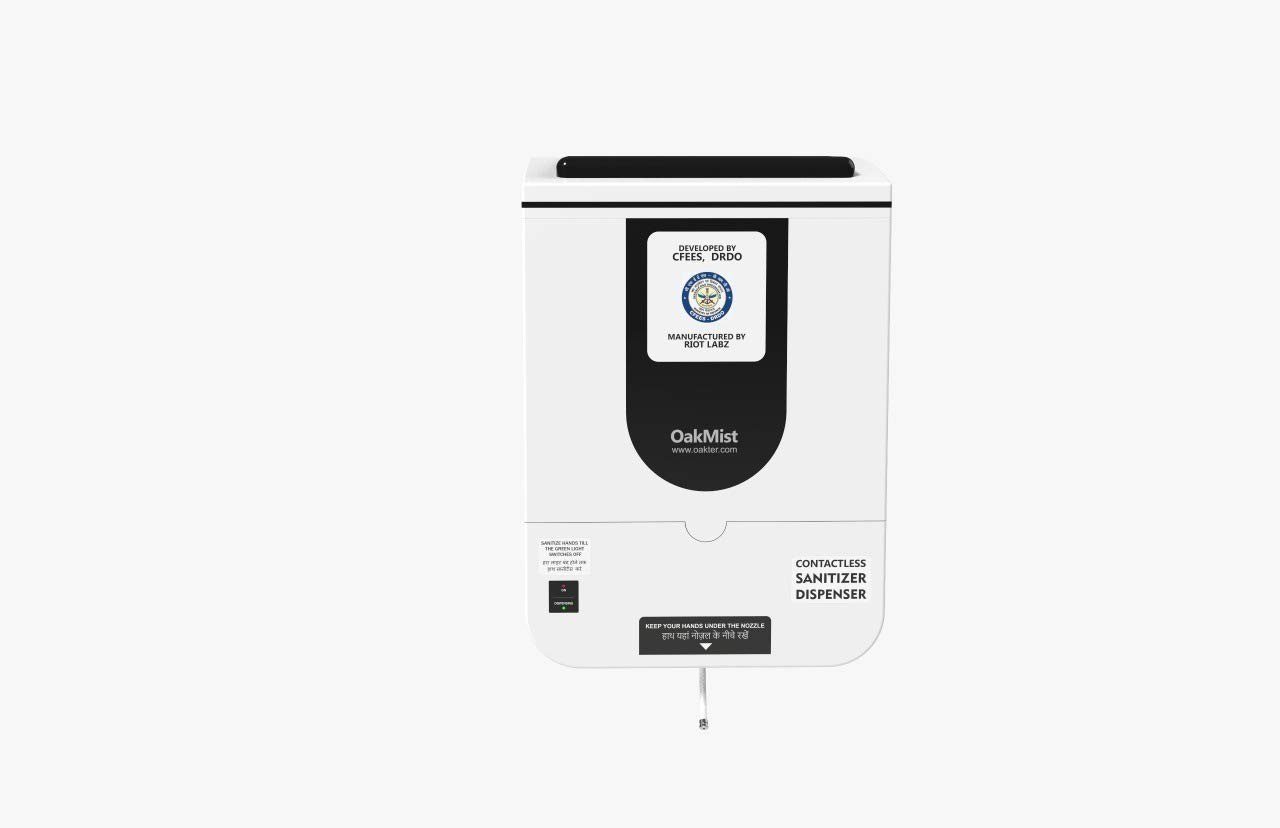 Key Things to Look for When Purchasing an Affordable Automatic Hand Sanitizer Dispenser in India
Health and hygiene should be our top priorities…always. But we learned it the hard way during the global Coronavirus pandemic. Hygiene is critical to human happiness, well-being, and productivity. And the three pillars of our hygiene today are social distancing, masks, and washing our hands – either with soap and water or an alcohol-based sanitizer.
Using a sanitizer is a proven way to ward off the virus threat. It is advised that every time someone visits your home or your office premise, they should sanitize their hands first. But isn't it inconvenient to have someone stand at the door and hand out the sanitizer? Not to mention the risk of contact with the sanitizer bottles!
This is where an automatic hand sanitizer dispenser can save your day. Install one at the entrance and get rid of the hassles. 
Not to forget, a touchless automatic dispenser means lesser risks of cross-contamination.
How to Choose the Right Automatic Hand Sanitizer Dispenser in India?
There are many designs, models, and sizes of touchless hand sanitizer dispensers available in the market, but how do you select the best one for your office or home? 
Here are a few pointers you should consider:
1. Build Quality
You will find dispensers with metal and plastic construction. Both types are waterproof, and thus can be used in washrooms or kitchens as well. Look for sturdiness and quality material. If made from metal, then it should be high-quality material and not the one that gets corroded easily. The plastic sanitizer dispensers should be made from high-quality BPA-free and solid plastic. Before buying, also check for any foul odour and spillage from the dispenser. 
2. Types of Sanitizer Dispensers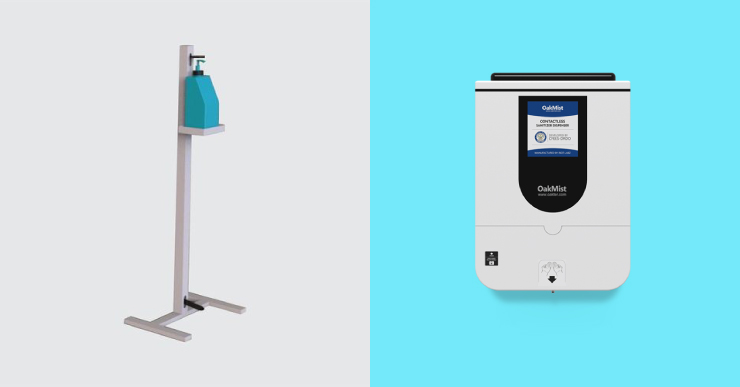 There are two main types of contactless hand sanitizer dispensers, floor stands and wall-mounted. The choice will depend on your space availability and other requirements. A wall-mounted touchless hand sanitizer dispenser is apt for any place as it does not require much space and can be easily fixed on the wall. You can install it anywhere, and it will not come in the way. On the other hand, if you require a sanitizer dispenser to be placed at the gates or in a public place, flood stands can also suffice. 
3. Capacity
The capacity of the dispenser, that is the overall storage ability is a crucial factor in picking the best automatic hand sanitizer dispenser for your organisation. It will decide how often you would have to refill the dispenser. If it is for your home, go for a compact one with a 1-litre capacity.
If it is for an office or a public place, a bigger dispenser will be more suitable, with a capacity of at least 5 litres. Check out the size of the dispenser as well because it has to fit your space as well. 
4. Dispensing Capacity
It is the amount of sanitizer the dispenser releases per use. Too much is a wastage, and too less isn't sufficient. It should dispense just the right amount to cover both hands well. 
Around 5 ml per dispense should be enough. Ensure that there is no gushing of the sanitizer nor any drips.
5. Easy to Install
You need to make sure the automatic hand sanitizer dispenser you pick is compact and easy to install. One of the key focus areas while designing the OakMist and the OakMist mini were the form factor and ease of installation.
Simply fix it on the wall or place it on the ground, connect it to a power supply, and you're done. If the installation process is too complicated or lengthy, look for something else.
6. User-friendly design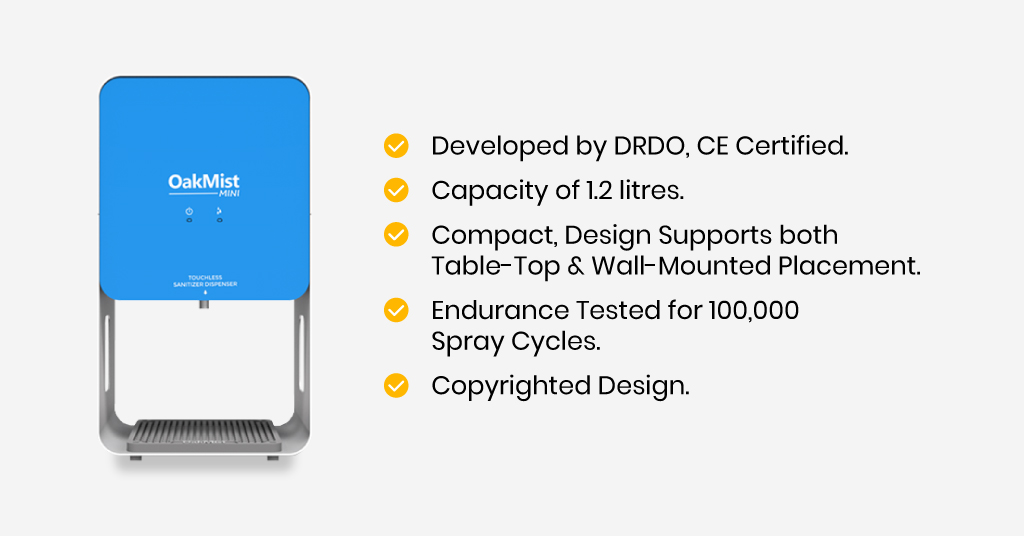 Smart and appealing appearance, yet simple and effective functionality helps attract attention and persuades more people to use the dispenser. A good design lends elegance to the space as well. Also, the design of the automatic hand sanitizer dispenser isn't only about aesthetics but also the functionality. The dispenser needs to have a panel to let you know how much sanitizer is left in the machine. It will help you to refill the device in a timely manner. 
7. Durability
An automatic sanitizer dispenser will often be used by multiple people, multiple times a day. Thus, while choosing the right, affordable automatic hand sanitizer dispenser, ensure it has a robust build quality and pump mechanism so that it can cope with constant use. 
8. Mist or Gel?
Before you buy, check if the dispenser works for either type of sanitizers, mist or gel, because some sanitizer dispensers may be suitable only for liquid sanitizers. Also, mist-based sanitizer dispensers are believed to do a better job at completely covering your hands with the sanitizer.

9. Protection
Since most automatic sanitizer dispensers work on electricity, find out how much power it will consume. Also, it is better to opt for one that offers built-in protection against voltage fluctuations. 
10. Easy Maintenance
Any device will have to be cleaned to prevent dirt and bacterial build-up. Modern touchless hand sanitizer dispensers are innovative and do not need too much cleaning or maintenance. A wipe is all that is required. Do find the cleaning and maintenance process of the dispenser before you buy it. 
Investing in a hand sanitizer dispenser is the need of the hour. Again, any ordinary sanitizer dispenser won't do. To prevent cross-contamination and for high hygiene guarantee, an automatic, touchless dispenser is all the more important. Make a checklist of where you will need it, what features you will require, and the price and then buy the one that ticks the most points in the list.
A hand sanitizer dispenser is a long-term purchase, hence it is advised to make an informed choice. 
When it comes to automatic hand sanitizer dispensers in India, OakMist is a popular and affordable option that is trusted by thousands already. Developed by Riot Labz Pvt. Ltd. jointly with the Defence Research and Development Organisation, OakMist PLUS and its smaller and more compact variant, the OakMist Mini, are being used at airports, many private and government offices, banks, shopping malls, temples, hospitals and even at the offices of our honourable ministers.
To know more about OakMist automatic sanitizer dispensers, visit here.