Why OakMist is a Smart & Reliable Hand Sanitization Solution for this Busy Generation
A pandemic like the COVID-19 is always unprecedented. The last time humanity witnessed a pandemic of this scale was the Spanish Flu in 1918. Over a century later, the world is again at a loss. The bottom line is we weren't prepared for health emergencies of magnitude like the current Coronavirus pandemic.
A year later, things have changed. We have at least some proven guidelines to help us fight the virus.
Now, as the workplaces are starting to resume operation, a reliable hand sanitization mechanism is a must to keep COVID-19 and its deadly mutations in check.
Also, it's imperative to understand that a person can't form a habit overnight. The HealthLine magazine quoted the European Journal of Social Psychology's paper, which says a person can take up to 250 days to create a new routine.
The above number shows both organizations and individuals have to understand the limitations of human psychology. That's when a product like OakMist, an automatic hand sanitizer dispenser, makes a tangible impact on the ground. OakMist's safe and easy technology helps grow the habit of sanitization among people. It's giving businesses the confidence to start operations at full potential. The conviction stems from the safety shield that Oakter's touchless hand sanitizer dispenser offers to employees.
How Automatic Sanitizer Dispenser Protects Employees & Customers From COVID-19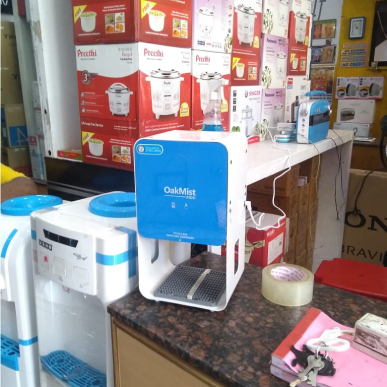 The automatic hand sanitizer dispenser is emerging as a must-have restarter tool for businesses and organizations planning to open up again. US Centre For Disease Control (CDC), an institution recognized across the globe, recommends sanitization of hands for a minimum of 20 seconds.
In workplace-like setups, where one cannot avoid unwarranted touches, washing hands for 20 seconds is challenging and exhausting. That's when a tool like an automatic hand sanitizer dispenser becomes a perfect weapon to deal with life-threatening pathogens like Coronavirus.
When you employ automatic hand sanitizer dispensers like OakMist at your business site or office space, it instils confidence among all stakeholders. From your employees to customers, everyone thinks that you care about their health and taking proper measures to keep them safe. The confidence directly translates into improved productivity and better business activity.
Strategic Placement Of OakMist For Maximum Protection
There are no two ways about the role an automatic hand sanitizer dispenser has to play if we are thinking of a proper opening of our economy: our offices, education institutions, shops, and malls. But how we use it is equally important. We need to place an automatic dispenser like OakMist in critical locations to get the most value out of it.
For instance, the entry and exit points see the most footfall in any establishment. Of course, it's ideal to have an OakMist there, but you must recognise locations in your area by considering variables like footfall and behavioural patterns. Like, if people in your office tend to flog more around the printing machine, your potential OakMist should be there too.
Benefits & Uses Of An Automatic Hand Sanitizer Dispenser
The benefits of an automatic hand sanitizer dispenser like OakMist cut across all industries and businesses. Let's see some use cases and understand how these automatic dispensers come into play and work as lifesaver tools.
Restaurant and Eateries
Many states in India are now allowing dine-in restaurants and eateries to operate. But the customers are still reluctant, and even when they visit, they are in two minds. They are always thinking, like "Am I doing the right thing?", "I could have simply ordered the food at home."
The sentiment above is not great for the industry. But the customers are right when they think in that direction—safety above all. The way out for restaurants is to have an ecosystem where customers feel safe. For example, having an automatic hand sanitizer dispenser allows restaurants and eateries to facilitate touchless hand sanitization. It helps them keep both customers and the staff safe.
Brand Retail Stores
In this Coronavirus pandemic, the offline brand retail chains were among the worst-hit industries. Not every brand had the ecosystem to do business online and compete in an already very competitive market. Now, when the stores are allowed to open, the customer sentiment is nowhere close to pre-pandemic times.
Customers still prefer online shopping over going to physical stores. But there's a different charm in visiting physical stores. People are reluctant just because they aren't sure about the safety measures that retail stores are taking. There lies an opportunity for all brands that operate in the offline space; they can offer more than what customers expect. Deployment of an automatic hand sanitizer dispenser like Oakmist does that job. It ensures safety to customers and also builds brand capital.
School, Colleges, And Libraries
Education is another domain that this Coronavirus pandemic has rattled. Education boards had to defer or cancel examinations. Schools that are always critical for the formative growth of children had to shift all their education online. Colleges had to cancel all classroom training.
Now that we are past the second wave of Coronavirus, the whole education fraternity needs to come together to do a confidence-building exercise. Then parents can gather the confidence that their children are again safe in classrooms. A tiny automated machine like OakMist has an instrumental role to play in this exercise. It ensures that all students sanitize their hands effortlessly.
It's always easier to use an automatic hand sanitizer dispenser than washing hands or using spray bottles. That means students are less likely to skip their routine hand sanitization.
Schools and Colleges do not just have classrooms; they have labs, libraries, playgrounds, and other facilities. OaKMist has equal employability in all these places.
OakMist: An Affordable Safety Tool For Your Business And Office Spaces
OakMist is probably the lowest price you will pay for the safety of a group. Also, It shows business owners, corporates, and entrepreneurs a silver lining that even with this pandemic around, they can operate their spaces in total capacity. OakMist is available in three models:
OakMist Mini: Capacity – 1.2L
OakMist: Capacity – 5L
OakMist Plus: Capacity – 10L
You can buy your OakMist aligning with the consumption of sanitizing liquid. And place strategically in all potential areas of virus transmission.